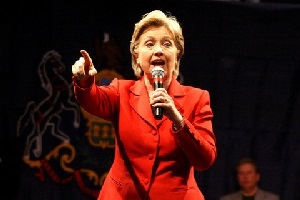 It's come to light this week that possible 2016 presidential contender and self-described "dead broke" Hillary Clinton has likely raked in almost $2 million in speaking fees for appearances at public and private universities across the nation in the last year.
"At least eight universities, including four public institutions, have paid hundreds of thousands of dollars for Hillary Rodham Clinton to speak on their campuses over the past year, sparking a backlash from some student groups and teachers at a time of austerity in higher education," The Washington Post reports.
The University of Connecticut paid $251,250 for an April visit, UCLA paid $300,000 for an appearance in March, and UNLV ponied up $225,000 for a speech scheduled for October, the Post reported. Five other campuses she visited refused to tell the Post what they paid her: University at Buffalo, Colgate University and Hamilton College in New York, as well as Simmons College in Boston and the University of Miami in Florida.
"But if she earned her standard fee of $200,000 or more, that would mean she took in at least $1.8 million in speaking income from universities in the past nine months," the Post reported.
While many or most of these speeches were paid through foundation grants, donor funds, and other coffers not directly tied to campuses' general budgets – the outrage and calls of hypocrisy have already mounted.
Even as Clinton stumps for better access to higher education and bemoans the plight of penniless college students, she collected some of these staggering fees at schools that have raised tuition on students recently.
UNLV has recently upped tuition by seventeen percent, while UConn has raised it by six and a half percent, The Washington Post reported, adding the high price tags for Clinton's speeches have angered many students who face ever-increasing tuition hikes:
"The students are outraged about this," said Elias Benjelloun, UNLV's student body president. "When you see reckless spending, it just belittles the sacrifices students are consistently asked to make. I'm not an accountant or economist, so I can't put a price tag on how much we should be paying her, but I think she should come for free."
UNLV student leaders have called on Clinton to return her "outrageous" speaking fee, but Clinton's spokesman and many of the colleges have been mum when asked about the former New York senator's honorariums.
But the former First Lady was mocked after she defended her speech rates in a recent interview. She stated that she and husband Bill were "dead broke" when they left the White House in January of 2001.
Many college students may also wonder how she will reconcile her fees with statements like "I worry that we're closing the doors to higher education in our own country," and "This great model that we've had that's meant so much to so many is becoming further and further away from too many."
Responding to the criticism, Clinton made an announcement Friday that she donated her fees to the personal family foundation. (But if this NY Times piece from last year is any indication, the complaints are unlikely to cease.)
Professor Harry R. Lewis of Harvard told the Washington Post:
… speaking fees at Clinton's level amount to "an extravagant form of advertising" for colleges that should focus instead on more scholastic initiatives.

"What makes fees at this level outrageous . . . is that one speaker's fee becomes comparable to what it costs to educate a student for several years," Lewis said. "At the same time you're putting your students into serious debt, as most institutions do; it's an allocation of resources that's very suspect."
But it's unclear whether the mainstream media will keep on Clinton about this topic, just as they did with GOP presidential candidate Mitt Romney in 2012 — especially since Romney's fees didn't come close to Clinton's.
Romney faced extreme hassle by the media during the 2012 campaign about his speaking fees. But his disclosure forms show a total of "$374,000 for nine speeches." That works out to approximately $41,592 per speech.
If Mrs. Clinton wants to be the Democratic presidential front-runner in 2016, she may have a difficult time defending her campus payments, as well as from these "enemies of the 99 percent."
After all, there's no end in sight, as in the same interview where she said she was "dead broke," she also stated giving speeches "was a much better thing than getting connected with any one group or company as so many people who leave public life do."
Editor's note: This post was modified to reflect Clinton's announcement that she donated the speaking fees to her personal foundation.
Dave Huber is an assistant editor of  The College Fix.
Like The College Fix on Facebook / Follow us on Twitter
IMAGE: Penn State/Flickr