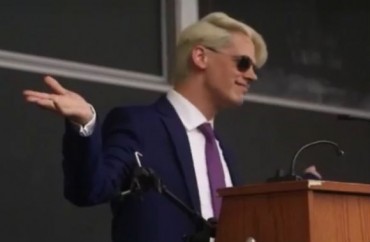 I knew there was something amiss at Milo Yiannopoulos' stop at the University of Delaware last Monday evening.
Aside from the fact there wasn't a single protester evident, the venue — billed for at least a couple of weeks as "sold out" — wasn't quite full.
In fact, it ended up not even being half full.
The Review's Michael Henretty reports that a group of UD alumni, "led by a source who wished to remain anonymous, reserved a large amount of tickets for the event with the intent of leaving them empty."
A university spokeswoman reported the official attendance at Milo's talk was 280 people — "which left roughly 59 percent of Mitchell Hall's 684 seats empty."
It was pretty easy to miss this fact as I was seated downstairs (which was quite full), but there is quite spacious balcony seating at Mitchell, too — more spacious than I had realized.
The anonymous source reserved 106 individual tickets for the event, each under a different Ticketmaster account. The source's 106 tickets comprised nearly 16 percent of Mitchell Hall's seating.

An alumnus of the class of 2009, the source chose to remain anonymous because he feared for his safety and does not want to become a target of harassment for Yiannopoulos' supporters.

"I don't need these people making trouble for me," the source said. "I'm worried about the unhinged element of the alt-right — including Milo and his audience — stalking, harassing and threatening me as they have done to others they don't like."

MORE: Milo at U. Delaware: Transgenders are 'deeply mentally damaged'

The source, unlike other participants in the protest, still lives in Newark.

Britta Peterson, a 2005 graduate, reserved 30 tickets to the event, without the intention of attending the event. She said that if given the chance, she would do the same thing over again.

"I actually thought it was a brilliant idea," Peterson said. "Protesting I think, at this point, has become a little bit ineffective. Especially with someone like Milo, a lot of the stuff that he does really is for attention. I thought it was a very good idea, a very peaceful way of not feeding into all of the attention seeking that he does, but still getting the point across."
UD graduate Steven Fox emulated Peterson, reserving some 50 tickets.
"I know a lot of this was talking about free speech, and a lot of people were saying that it's cool because it's free speech," Fox said. "And I think that's kind of a cop out. Is it right to call people freaks or idiots, just for being who they are? No."
When asked by The College Fix if he was aware that UD alumni had reserved blocks of tickets, Yiannopoulos responded "Yes, they did."
He added "We are implementing systems" (to prevent future occurrences).
MORE: Yiannopoulos takes on blood-paint protesters in Rutgers appearance
MORE: UC Irvine College Republicans sanctioned for Milo event
Like The College Fix on Facebook / Follow us on Twitter
IMAGE: YouTube