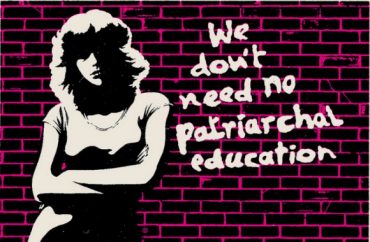 It seems increasing your job prospects in this tight employment market after college isn't that high a priority — in the last quarter century college undergrads are more concerned with, as one student says, "understand[ing] and relat[ing] to peers and colleagues better."
Which means, oftentimes, enrolling in women's and gender studies classes.
According to the National Center for Education Statistics, degrees in women's and gender studies have increased some 300% in the last 27 years.
"Many of the programs" in the field these days "explore and question the relationship of race, class, sexuality, ethnicity and more to encourage students to investigate in the broader field of gender," says a story in USA Today College.
Doreen Mattingly, chair of San Diego State's program, says "Our curriculum is really about social justice, and I think at this moment a lot of students are realizing that this is where students want to put their energy – what they want to learn and what they want to do."
How noble.
"The field should grow and be different than it was in decades ago, because if it didn't, we didn't do our work," [Wellesley College's Susan] Reverby said. "Now, especially, I think we're better at intellectually helping students understand all the different forms of intersectional experience, and we're less focused on social construction."

Reveryby [sic] said that many students grow up in silos and are typically sheltered by their own experiences. But when studying society from a women's study perspective, students are able to open their eyes to the experiences that others have had, too, helping to widen worldview and understanding.

"I think the learning in women's studies is both intellectual and emotional and that expands the way people think and take in material," Reverby said. "This stuff is about you and the world you live in, and so it gives you a way to think about how gender affects everything at [sic] why that's important. I think students become a lot more open to difference [after taking these courses], and they're not afraid of what's being discussed."
How delightfully loquacious!
Ball State women's and gender studies major Lilly Madden disputes the notion that her employment opportunities are limited after graduation:
"When people with this degree and this background go out into the world, they have a really great tool set to be be able to understand and recognize different problems and obstacles affecting different people in our society.
"I do have job opportunities, I do have skills, I do have a college degree that is meaningful."
Is she right? According to The College Of New Jersey's Women's, Gender, and Sexuality Studies website, "[a] degree in Women's and Gender Studies prepares you for almost anything."
The site also notes that employers seek out prospects that have "[a]n understanding of differences of gender, sexuality, race, culture, and social class," and possess an "[i]nsight into the connections among different forms of oppression."
For real? Funny, I don't recall ever being queried on those issues during job interviews … !
Read the full USA Today story.
MORE: Disgruntled women's studies major crashes Iowa State president's speech
MORE: Women's studies profs divided over whether women's studies is too vagina-centric
Like The College Fix on Facebook / Follow us on Twitter
IMAGE: Christopher Dombres/Flickr