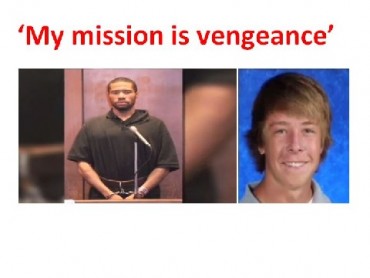 Brendan Tevlin was a good kid, a 19-year-old New Jersey college student "who would always do the right thing," his heartbroken mother told Fox News recently.
She's heartbroken because her son is dead, gunned down by a man reportedly waging Jihad against Americans in retribution for Islamic lives lost in the Middle East.
Allison Tevlin told Greta Van Susteren learning of her son's death was a mother's worst nightmare, that she had hoped when she saw police officers at her door at 4 in the morning they would just say he'd had an accident or something, that he was in the hospital.
"And I just could see on his face when I think I grabbed him and said, oh, no. No. Not Brendan," she recalled. "And he said, yeah, it's Brendan. And he was murdered. Murdered? In New Jersey? I guess – and then kind of turns into a big blur because they were on their mission to find out what was going on."
That was in June, and authorities have since put the puzzle pieces together.
Court documents state Seattle resident Ali Muhammad Brown, 29, shot 19-year-old University of Richmond sophomore Brendan Tevlin eight times on June 25 while the student sat at a red light in West Orange, N.J.
According to CNN, Brown told police that: "My mission is vengeance for the lives, millions of lives are lost every day. Iraq, Syria, Afghanistan, all these places where innocent lives with being taken every single day. So, a life for a life."
Brown also reportedly confessed to murdering three other people in Washington state earlier this year as part of his cause for "vengeance," according to records from the Superior Court of Washington for King County.
Seattle Mayor Ed Murray released a statement in August announcing murder charges filed against Brown while condemning his actions.
"Ali Muhammad Brown took the lives of three members of our community, and, with these charges, he will face justice," the statement reads.
"The charging documents reveal disturbing details about Brown's motive for committing these murders, which appears to have based on anti-American sentiment and an extreme interpretation of the Muslim faith."

Brown was also arrested in 2004 for conspiracy to commit bank fraud, along with 13 other members of an alleged ring, reports Fox News.
Federal investigators say they believe the ring sent money to terrorist groups. Brown pleaded guilty to one count of conspiracy to commit bank fraud and was released with credit for time served.
While Fox News and CNN have covered the matter regularly, CBS, NBC and ABC have continued to ignore the case's recent developments. Instead, they devote segments to topics like the NFL, CBS' new series Madam Secretary, and how to "sick-proof" your home for germs, the Media Research Center reports.
"So where is our collective outrage and remembrance of Brendan Tevlin? His story has been lost in a sorry media double standard," opined Fox News' Martha MacCallum in mid-September. "When I look at this picture of Brendan Tevlin, I think, he could have been my son. A 19-year-old, suburban boy. Strawberry blond, athletic, bright and smiley."
Todd Pettengill, host of a popular New York City radio show, echoed those sentiments as the region marked the Sept. 11 terrorist attacks, reports NJ.com.
"It was in fact an act of jihad, perpetrated by a fellow American who sympathized more with those who want to annihilate us than with his own country and its people," Pettengill said. "If there was ever a reason to riot in the streets in the name of humanity it would for this case. But has that happened? No. And I'm not suggesting that it should."
"The bottom line is this, domestic terrorism is already here, and we need to talk about it." 
Brendan's parents told Van Susteren they are trying to stay positive as the criminal case works its way through the system.
"I really haven't thought too much about the people who did this," Michael Tevlin said. "We have been trying to just stay positive and think about, you know, how to remember Brendan."
On Sept. 11, a memorial at the University of Richmond honored Brendan's memory. Throughout the memorial, classmates read anonymous tributes that recalled Brendan as "a great friend, but an even better person," The Collegian campus newspaper reports, noting the young man "tackled every obstacle that came his way with an optimistic outlook."
College Fix reporter Michael Cipriano is a student at American University.
Like The College Fix on Facebook / Follow us on Twitter