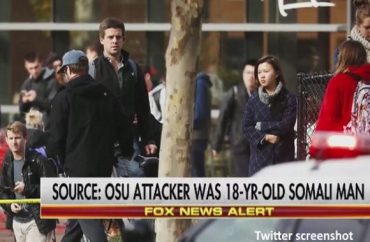 A Facebook page that appears to belong to Ohio State University stabbing suspect Abdul Razak Ali Artan suggests that the Monday campus rampage was a premeditated terrorist attack in the name of Islam.
Sources told ABC News that authorities are investigating the page, which featured this message three minutes before the attack:
I can't take it anymore. America! Stop interfering with other countries, especially the Muslim Ummah. We are not weak. We are not weak, remember that. …

If you want us Muslims to stop carrying lone wolf attacks, then make peace. We will not let you sleep unless you give peace to the Muslims.
The Facebook post consisted of "a photo of a computer screen displaying a text document," according to ABC News. It praised American-born Anwar Al-Awlaki, a top propagandist for al-Qaeda killed in 2011, as a "hero."
MORE: Police ID Ohio State attacker as 18-year-old student from Somalia
NBC News reported that the Facebook page also said the author had reached his "boiling point," and that he had posted two hours before his final post: "Forgive and forget. Love."
Sources: Authorities reviewing Facebook post from earlier 2day to see if connected to #OSU suspect. Posting cites Anwar Awlaki & Burma (1/3)

— Mike Levine (@MLevineReports) November 28, 2016
Posting says: "I am sick and tired of seeing [Muslims] killed & tortured EVERYWHERE. … I can't take it anymore." (2/3)

— Mike Levine (@MLevineReports) November 28, 2016
Artan, who was shot dead by a campus police officer, was a Somali refugee who came to the United States as a legal permanent resident from Pakistan two years ago, law enforcement officials told NBC News.
He was profiled by the campus newspaper The Lantern on the eve of classes this fall, described as a new transfer student who was scared to "pray in the open" because of "everything going on in the media" (h/t Inquisitr):
If people look at me, a Muslim praying, I don't know what they're going to think, what's going to happen. But, I don't blame them. It's the media that put that picture in their heads so they're going to just have it and it, it's going to make them feel uncomfortable. I was kind of scared right now. But I just did it. I relied on God. I went over to the corner and just prayed.
The suspected shooter at OSU, Abdul Razak Ali Artan, was featured in the school newspaper in August: pic.twitter.com/o1bZ3uV7Ri

— al tompkins (@atompkins) November 28, 2016
The writer for that "Humans of Ohio State" feature, Kevin Stankiewicz, told The Lantern in a Monday report that Artan "came across as genuine and nice" and that "he spoke really softly" and "did not seem angry":
"I don't know what and where and when and why and how, but something happened between Aug. 23 and now," Stankiewicz said. "A lot of people are injured, and I don't know what happened."
Read the ABC News, NBC News and Lantern reports.
MORE: UC-Merced mourns stabbing spree attacker Faisal Mohammad
Like The College Fix on Facebook / Follow us on Twitter