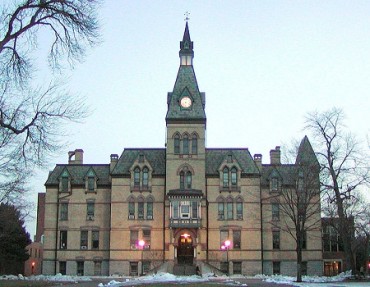 Tom Emmer, who ran for governor of Minnesota as a
Republican last year, was asked to teach a business class at Hamline University. But after other faculty members found out about his opposition to gay marriage, the university changed its mind about hiring him.
According to an article in the student newspaper, some professors thought that Emmer's opposition to gay marriage was incompatible with the university's mission.
A Hamline spokesperson said that the university had never officially agreed to hire Emmer, merely discussed the matter with him, and decided against it. But Emmer has produced considerable evidence showing that university officials did confirm his hiring, and introduced him to other faculty members as an adjunct faculty member before abruptly changing course. In a letter to Hamline President Linda Hanson, he wrote:
Madam President, is there a requirement that every faculty member at Hamline conform on the issue of marriage? Is there only one point of view allowed? Is there no political or religious freedom recognized at Hamline? I thought the "mission" at Hamline University was to educate – not to inculcate. Again, this is unnecessary and, frankly, outrageous intolerance by people who claim to hold the high ground on tolerance.
Like The College Fix on Facebook / Follow us on Twitter