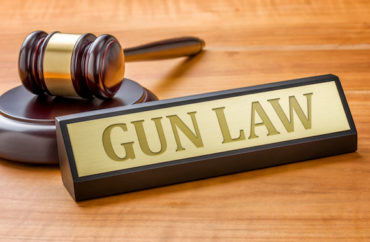 Says school does not have authority to regulate firearms
A Republican state delegate in Wyoming is taking a university to court for its ban on openly carried firearms, saying that state law "clearly" shows that the university is forbidden to regulate guns in such a way.
In April, Del. Lyle Williams, who represents District 18 of the Wyoming House of Representatives, was cited while openly carrying a firearm during the biannual Wyoming GOP Convention being held at the University of Wyoming's Conference Center. After campus police noticed Williams's gun, they asked to disarm or leave campus. He refused and was given a trespassing citation, a charge that can carry a $750 fine and up to six months imprisonment.
University policy dictates that "any person carrying a dangerous weapon in a University facility is required to relinquish the weapon to the UW Police Department voluntarily or upon request."
Now Williams is suing the University of Wyoming, arguing that their gun regulation policy is "blatantly in violation of Wyoming statute." The statute in question is Wyoming's Firearms Freedom Act, which states that "no city, town, county, political subdivision or any other entity shall authorize, regulate or prohibit the… storage, use, carrying or possession of firearms…"
Reached via Facebook, Williams told The College Fix that prior to the GOP convention, fellow members of the Wyoming GOP had attempted to comply with the state's prohibition on concealed carry on campus. "Most of our members who carry firearms routinely prefer to carry concealed," he told The Fix. State law, Williams wrote, "prohibits concealed carry on campus without the permission of the University. Some of our members requested an exemption to that prohibition and the University denied the exemption so the only legal way to carry was openly."
"Some of our members also presented the statutes to the University clearly showing the prohibition on them regulating firearms beyond the concealed carry provisions," Williams added.
Court documents published on Williams's Facebook page, show that legal counsel for UW is using the Supreme Court's 2008 D.C. v. Heller decision to argue that the University's prohibition on guns is constitutional due to the fact that schools are considered "sensitive places." Mr. Williams disagrees.
"[Heller] allows laws restricting firearms in 'sensitive areas,'" he told The Fix. "What Heller does not do is allow the 'sensitive area' to regulate firearms in violation of state statute."
The University "is a political subdivision [of the state] and is prohibited from regulating firearms under WS 6-8-401," Mr. Williams added.
In response to his suit, the University of Wyoming is contending that it is in fact an agency of the state and is therefore "authorized to enact regulations related to the possession of firearms."
Asked what his next steps are in response to the University's recent filing, Mr. Williams told The Fix, "I leave strategy to my attorney but rest assured there will be further action on our part."
The University did not respond to numerous requests for comment.
MORE: In victory for gun rights activists, district court tosses anti-campus carry lawsuit
MORE: A new women's gun advocacy group highlights the popularity of Texas campus carry
IMAGE: Zerbor / Shutterstock.com
Like The College Fix on Facebook / Follow us on Twitter