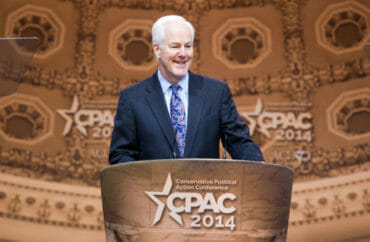 Why would a former judge promote a biased investigation process?
Emily Yoffe's recent Atlantic series on rape investigations, on and off campus, shone a light on the alarming expansion of "trauma-informed" techniques, enthusiastically endorsed by the Obama administration and its Department of Education.
Memory and neuroscience experts told Yoffe there was little evidence backing these pseudoscientific claims – that sexual assault creates "neurobiological change," induces "tonic immobility" in the victim during the act, represses memories that can be accurately recalled much later (just not immediately after), and that contradictory or changing narratives are actually evidence of assault.
Even with the Obama administration gone and its Title IX guidance rescinded, the promotion of trauma-informed "junk science" (as Yoffe calls it) is still chugging along, thanks to bipartisanship.
Democratic Sen. Amy Klobuchar and Republican Sen. John Cornyn, the Senate majority whip, introduced a bill (S-2266) the Thursday before Christmas, when few people were paying attention, that would create a "demonstration program on trauma-informed training for law enforcement."
The attorney general would award grants to entities to implement "evidence based or promising policies and practices to incorporate trauma-informed techniques" that result in more prosecutions and convictions, specifically naming college campuses as one target community.
Yes, the bill is clear that it's not interested in the evidence underlying trauma-informed investigations.
MORE: Memory, neuroscience experts warn Title IX training driven by junk science
Its goal is to fund research into practices that "prevent re-traumatization of the victim," as well as improve communication between victims and law enforcement and collaboration among people who deal with violence against women.
The bill never refers to "victims" as "alleged," even though it's purportedly about investigating alleged crimes. Without a crime, there is no victim.
Its metrics for success are "successful investigation and prosecution of the alleged crime [the only "alleged" in the bill] in a manner that protects the victim to the greatest extent possible," and prioritizing "the well-being of victims and their satisfaction with the criminal justice process."
It's not surprising that Klobuchar, a former prosecutor, would endorse this guilt-first, intentionally biased approach to sexual-assault investigations, but it's more surprising that Cornyn would.
Though he served as Texas attorney general before joining the Senate, even earlier Cornyn was a trial judge and state supreme court justice, meaning he's had to evaluate questionable claims made in the name of science.
'A legislative Trojan horse' that enshrines 'presumption of guilt'
This bill alarmed the Center for Prosecutor Integrity, the sister organization to the campus-focused Stop Abusive and Violent Environments.
It launched an effort in 2016 to fight "victim-centered" investigations that presume guilt, protect accusers from scrutiny and functionally target black men – "the new war on drugs."
On Thursday the center wrote to Klobuchar, the lead sponsor, asking her to rescind the bill because its goals "will only be achieved at the expense of investigative neutrality, due process, and fundamental fairness":
Proponents of trauma-informed approaches correctly advise investigators to not interpret inconsistencies or gaps in a complainant's statements as necessarily probative of an unfounded report.

But these advocates take the argument one step further, insisting that such inconsistencies should be interpreted as prima facie evidence that sexual trauma in fact did occur. This guilt-presuming stance has the effect of dissuading the investigator from consideration of other explanations for implausible complainant statements, such as excessive ingestion of alcohol or a mistaken allegation.
Center for Prosecutor Integrity letter to Sen. Amy Klobuchar about "trauma-informed" rape bill by The College Fix on Scribd
MORE: Federal judge validates due-process lawsuit against Brandeis
The letter quotes U.S. District Judge F. Dennis Saylor, who ruled against Brandeis University in a due-process lawsuit by an accused student. Saylor wrote:
Whether someone is a "victim" is a conclusion to be reached at the end of a fair process, not an assumption to be made at the beginning. Each case must be decided on its own merits, according to its own facts. If a college student is to be marked for life as a sexual predator, it is reasonable to require that he be provided a fair opportunity to defend himself and an impartial arbiter to make that decision.
The center is not likely to endear itself to Klobuchar, saying her bill is guilty of "careless use of language" that "tells investigators to presuppose victimhood from the time an allegation is first made":
S. 2266 is a legislative Trojan horse that would stain sexual assault investigations with a presumption of guilt.
It points her not only to Yoffe's Atlantic essay on the "junk science" her bill promotes, but to the center's new white paper that says the "believe the victim" movement "not only threatens the reliability of sexual assault adjudications, it compromises the integrity of our entire criminal justice system."
A spokesperson for the center told The College Fix that it's assuming "every lawmaker with a scintilla of fairness will be opposed to a bill that undermines the presumption of innocence," so it won't name its presumed allies who can be counted on to oppose the bill.
Perhaps when Cornyn is reminded that he promised not to show partiality as a judge, he'll become one of those allies.
MORE: Due-process group fights 'victim-centered' rape investigations
IMAGE: Christopher Halloran/Shutterstock
Like The College Fix on Facebook / Follow us on Twitter