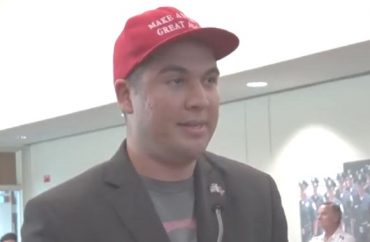 'Republicans are the most targeted minority on our campus'
In a rare move, a throng of Republican students upset at ongoing harassment they face on campus took their complaints to the ultimate authority — the board of trustees.
Some two dozen people — many of whom students — converged at the Coast Community College District board meeting en masse last week to voice concern at the discrimination they face at their school, asking for measures to protect them from discrimination based on their political diversity and ideological beliefs.
As the parade of students spoke, applause and high fives echoed through the room during a meeting that was charged with high emotion.
Many were also there to protest the fact that an instructor at the school, Olga Perez Stable Cox, who told her human sexuality class that Donald Trump's election was an assault and "act of terrorism," recently earned the faculty of the year award.
Signs including "flunk Olga" were held by some in the audience, and others wore bright-red Make America Great Again and Trump hats.
Joshua Recalde-Martinez, a conservative student who's been targeted with online death threats and graffiti vandalism, was the first of many students to speak at the meeting.
"This is not a left or right issue, this is a common-sense solution to a problem which springs from extremist partisan feelings from either side of the political spectrum against the other, and sadly those who advocate against these amendments seek to only allow further discrimination on college campuses throughout the district," said Recalde-Martinez, president emeritus of the OCC College Republicans.
Vincent Wetzel, president of the OCC College Republicans, also spoke up. Saying he is a gay, Hispanic religious minority from a low-income household, he has never been more discriminated against for any other reason than being Republican.
"Republicans are the most targeted minority on our campus, and it is the duty of this board to defend minority students," he said.
UC Irvine student Ariana Rowlands, a leader among state College Republicans, also expressed concern about the way conservative students are treated on OCC's campus and elsewhere.
"We're being persecuted by not only our own fellow school members but by the faculty and administration as well," she said.
Students also voiced frustration that Cox was tapped as the faculty member of the year. Recalde-Martinez asked the board to rescind the award.
"A faculty member of the year should be someone which supports all students, not just some, and which upholds the value of Orange Coast College, which Olga didn't by failing to recognize the diverse student population within her human sexuality class last semester," he said.
And Wetzel called the decision to award Cox "completely inexcusable," saying he is in the process of filing a public records act request to determine the names of educators at the school who voted to award her.
"This faculty decided to take possibly the most divisive action that they could have taken and just as a massive 'screw you' to the Republican club nominated Professor Cox to receive this award," he said. "My club is trying to work toward peace on our campus, and we do not feel like the faculty is supporting us in any way in this pursuit."
Many Orange County community members who attended the meeting in support of the College Republicans also delivered compelling speeches to the board. A total of 22 speakers were present during the first session, most of whom spoke to call for protections for political diversity.
Although most speakers were in support of College Republicans' requests, four spoke to defend Cox and current university policies.
Rob Schneiderman, president of faculty union, stated at the meeting that leadership throughout Orange County is already in support of protecting students of all beliefs.
"It is important to note though, that harsh criticism of a politician is not, I repeat, that is not discrimination" Schneiderman told the board.
"The whole idea of expanding government policies to include political party as a protected class of citizens seems like big-government nanny state solutions that invite lawsuits and regulation," he said, adding he is surprised how Republicans would be "advocating such a big-government position."
Schneiderman also denied that Cox told students to stand and identify themselves as supporters of Donald Trump: "Anyone repeating this alternative fact this evening will be perpetuating a lie."
Moving forward, OCC students said they hope their pleas did not fall on deaf ears.
"It is our hope that the massive community turnout that we saw at Wednesday's board meeting will mark the turning of the tide," Wetzel told The College Fix via email. "This was a clear wake-up call to the district and we hope this will force them to actually listen to our concerns and take appropriate action."
But board President David Grant told The Los Angeles Times in an interview after the meeting "that if students want school policies revised, they should first go through the different governing groups on campus."
Wetzel said they've tried that.
"The OCC Republicans have brought our cause before Academic Senate and various administrators but our concerns have largely fallen on deaf ears. David Grant is attempting to shift blame for the board's lack of leadership on the vitally important issue of bullying. Bullying is an issue addressed at the district level as well as at the school level so it is well within the board's power to take action if they actually wanted to," he told The Fix.
Wetzel added that Cox has inadvertently provided advertisement for OCC Republicans: "Our membership is better than ever this semester."
Like The College Fix on Facebook / Follow us on Twitter