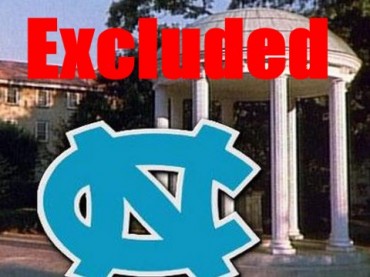 The leadership at UNC-Chapel Hill has made it clear that it supports diversity on its campus – as long as you agree with it politically, that is.
Chancellor Carol Folt, Vice Chancellor Winston Crisp and the Student Advisory Committee to the chancellor co-hosted a dinner with 40 student leaders from student organizations across the campus last week to discuss diversity and the school's future.
But not a single conservative student group was invited to voice an opinion.
In fact, right-leaning organizations including the UNC College Republicans, Carolina Students for Life, UNC Young Americans for Liberty, the Tar Heel Rifle and Pistol Club, and Christians United For Israel were not even aware of the dinner until the Daily Tar Heel wrote an article about it the next day.
Frank Pray, College Republican chairman and editor-in-chief of the Carolina Review, a conservative campus publication, told The College Fix that these groups were angered that they were left off the guest list.
"We were just fed up when we heard about this from the Daily Tar Heel," Pray said. "We never would have found out if they didn't publish an article about it."
Students in attendance included those representing the Muslim, Latino and Black student populations and Greek life.
Alex Johnson, chairwoman of UNC Young Americans for Liberty, a campus libertarian club, said she was "extremely disappointed" the university did not include all types of voices at the dinner.
"It seems to me that only one type of political perspective is being included or recognized on campus while the student body, itself, is actually quite diverse in opinions," Johnson said, according to the Carolina Review.
But this is not the first time conservative students have been subjected to this kind of treatment on campus. Peter McClelland, chairman emeritus of the UNC College Republicans and current chairman of the Log Cabin Republicans of North Carolina, said it is the norm for right-leaning groups to be excluded from these conversations.
"In my nearly four years in this campus' conservative movement, I have never met an administrator who made an effort to bring conservative voices into discussions about the future of the university," he told the Carolina Review.
Pray added that the students running student government are liberal, as well as those on the student advisory committee to the chancellor.
Pray said the Carolina Review reached out to Chancellor Folt and Student Body Vice President Kyle Villemain requesting a list of the groups who were invited and an explanation of why no conservative student organizations were invited to share their opinions.
Folt didn't respond until around 4 p.m. Friday, when she told Pray that she is "eager" to get him involved in future conversations.
"I assure you that this is just the beginning of a campus wide dialogue," Folt said in an email to Pray, obtained by The College Fix. "Intellectual diversity is a hallmark of our campus culture and I want these campus conversations to be as inclusive as possible."
Pray said he believes the late reply was an effort to bury the story at the end of the news cycle leading up to the Super Bowl.
The two are scheduled to meet Feb. 4 to discuss the matter further.
But Pray is uncertain that anything significant will come from the meeting. He said that while he will go in with an open mind, past experiences like these leave something to be desired.
"I am not going to have the mindset that nothing beneficial can happen," Pray said. "But just based on what has happened in the past, I don't know if it going to be very productive or very beneficial for us."
College Fix reporter Michael Cipriano is a student at American University.
Like The College Fix on Facebook / Follow us on Twitter
Like The College Fix on Facebook / Follow us on Twitter