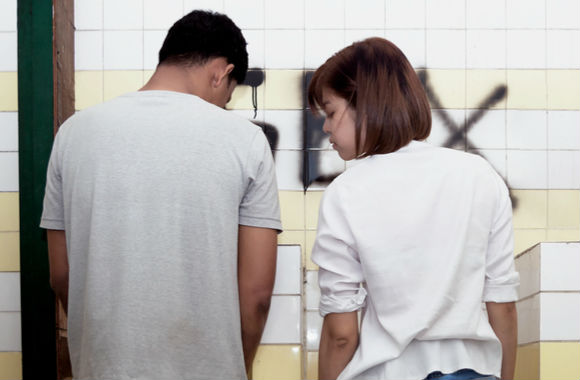 And a new $10 million refugee program
Paul LeBlanc doesn't want his more activist students to protest the university he leads to a standstill when they return to campus.
That's probably why the president of Southern New Hampshire University sent a rambling and self-congratulatory email to the campus community Wednesday, listing the private school's bona fides on "social justice," "economic justice," "inclusivity" and "rationality" in the wake of this weekend's violence between white nationalists and anti-racists in Charlottesville.
Among the reasons SNHU students should feel proud and not trap LeBlanc in his office with disruptive and attention-grabbing sit-ins? They can relieve themselves in whatever restroom they want.
The email is reprinted on LeBlanc's personal blog but not listed in the university's news section, and not in its social media, either. A College Fix reader forwarded a copy.
In order to see the president's musings, a visitor has to hover over "About SNHU" on its homepage, click "Leadership & History," click  "Leadership," click "more" under the president's bio, and only then click "President's Corner Blog."
You can also follow him on Twitter, where he retweeted a tweet identifying Charlottesville marchers including a University of Nevada-Reno student who has received multiple death threats.
My letter to campus in the wake of Charlottesville: https://t.co/fBm1Wo0vRg

— Paul LeBlanc (@snhuprez) August 17, 2017
Alt-right is evil because it rejects climate change
LeBlanc said the "small number of counter-protesters" in Charlottesville, which included violent left-wing activists, "were there to protest the evil that is the alt-right and defend American values."
LeBlanc quickly pivoted to brag that "how we manage restrooms" shows the university's inclusivity, as does the diversity of its trustees (a black man and Hispanic woman are joining) and its commitment to be "intolerant of intolerance."
SNHU will somehow protect speech "across the political and intellectual spectrum" while banning hate speech, he said, not bothering to define what he means by "hate speech," other than to say it's not speech that provokes "disagreement, discomfort and dislike."
"We stand for social justice," he wrote, providing education to first-generation, low-income and "students of color" as well as "extending rights and freedoms" to non-heterosexuals. LeBlanc recited the ethnic mix of an engineering team he met at a nearby business, praising their "laughter, respect, and efficiency" without any apparent awareness of how patronizing that sounds.
MORE: After Charlottesville, make sure to report 'insensitive comments' to cops
In one of his stranger passages, LeBlanc assails the alt-right for ignoring climate change:
We stand for rationality, science, evidence, and facts. The world is a wondrous place full of mystery and awe, and the best scientists and researchers are humble in the face of what we do not know, but we should make policy and advances on the basis of what we do know.  Unfortunately, we live in a time of willful ignorance.  The alt-right movement promulgates lies about climate change, immigrants and crime, and sews [sic] seeds of doubt about fundamental institutions of our democracy. In these times, universities have to stand as beacons of light against that darkness.
LeBlanc also said SNHU would "announce an important new initiative to support refugees and immigrants in our local community" today. There is nothing later than July posted on the News & Events page as of Thursday afternoon.
He appears to be referring to a month-old announcement of a $10 million initiative to enroll 50,000 refugees in SNHU's online education program through 2022, funded by anonymous donors and expanding a 500-student pilot program in Rwanda.
The university has frozen tuition through this upcoming academic year for everyone except for online and continuing education students, following a five-year freeze. Somehow it's going to pay for several new "state-of-the-art facilities" including a "welcome center," a center for "student success," a fancy athletic complex and a residence hall with a fitness center – and that's just to start.
Read LeBlanc's email to the community.
MORE: Charlottesville digital mob drives misidentified professor into hiding
Like The College Fix on Facebook / Follow us on Twitter
IMAGE: SanchaiRat/Shutterstock