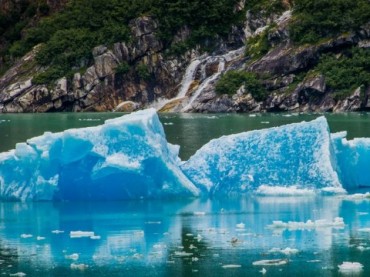 While much of the debate over climate change surrounds whether or not it is occurring, one glaciologist and retired professor says the real issue is that the topic is being used as a political pawn to siphon money and votes.
Dr. Terry Hughes, in an interview with The College Fix, said researchers want to keep federal funding for climate change alive, and politicians want to earn environmentalist votes, and both predict global pandemonium to that end.
Hughes, a professor emeritus of earth sciences and climate change at the University of Maine, said for years his colleagues urged him to be in lockstep with former Vice President Al Gore – "the drum major in the parade denouncing global warming as an unmitigated disaster," he told The College Fix.
But Hughes – who believes global warming is actually a good thing because more carbon dioxide is good for the environment in many ways – said he does not want to march to that beat.
"Too many (the majority) of climate research scientists are quite willing to prostitute their science by giving these politicians what they want," he said.
Hughes – who worked for 35 years at the Department of Earth Sciences and the Climate Change Institute at the University of Maine – said climate cycles overlap with election cycles, which helps politicians "get electoral visibility by pounding the panic drums."
But what he wants people to understand is that climate change researchers and politicians collude to create fear of a disaster that will never happen.
"You will never read or hear any of this from the scientific and political establishments," he said. "I'm now retired, so I have no scientific career to protect by spreading lies."
Among Hughes' theories, he said he believes the desire to continue the climate change arguments has a "racist" component to it. His evidence? A 1974 National Security Study Memorandum written by former Secretary of State Henry Kissinger.
"NSSM 200 states that American economic supremacy can be maintained only if U.S. foreign policy is aimed at reducing the non-white population worldwide," he said. "We need their natural resources to maintain our standard of living."
Hughes said the U.S. has carried out that policy successfully by supporting the one-child policy in China, and also accuses the government of "targeting aborting baby girls using ultrasound technology that is rampant in both China and India, the two countries producing the most atmospheric carbon dioxide by far."
Hughes, who is now retired, does not fear backlash.
Hughes told The College Fix that he has sent copies of his arguments to his former colleagues at the University of Maine and at NASA. Most of them "probably disagree," he said, but added that they all receive funding for climate research.
According to a retirement announcement from the University of Maine's human resources department, "Dr. Hughes is an internationally renowned glaciologist who pioneered many of the modern ideas currently under study in the field. Not least of these is the current understanding of how massive ice sheets collapse and how important future collapse of portions of the Antarctic ice sheet will be to future sea level rise – a concept now commonly referred to as 'the soft weak underbelly' of Antarctica."
Ironically, the notice goes on to state that "many of his most 'outlandish' scientific contributions may not even be appreciated for years to come."
His reasons for why global warming is a good thing, Hughes told the Capital Journal, is that "atmospheric CO2 would greatly increase agricultural production," "thawing permafrost would increase by one-seventh Earth's landmass open to extensive human habitation," and "if the sea level did rise, there would be a global economic boom," among other arguments.
College Fix reporter Andrew Desiderio is a student at The George Washington University.
Like The College Fix on Facebook / Follow us on Twitter
IMAGE: Ted McGrath/Flickr