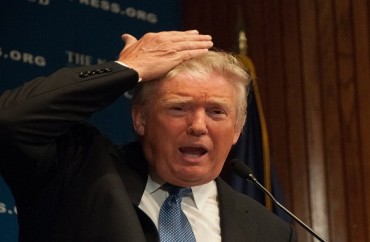 In yet another example of "to hell with objectivity" in contemporary public education, a math teacher at a Rhode Island high school will be taking some 50 students to the "Women's March on Washington" on January 21, the day after Donald Trump's inauguration.
The instructor, Central Falls High School's Seth Kolker, says he organized the trip to "help students 'channel their fear, anger and confusion'" post-election, according to the Providence Journal.
"When I mentioned the Women's March on Washington to my students, their enthusiasm was overwhelming," Kolker says. "The potential to take part in a peaceful protest in the name of human rights – it just makes so much sense."
Kolker has "independently organized" the DC sojourn.
[Kolker coordinated the trip] to help students "channel their fear, anger and confusion" after the election, when they began asking such questions as, "Will I be deported," or "Are Latinos going to be allowed to go to high school in America anymore? …

"My students have concerns that range from the security of their families, to their rights as transgender children, to the very functioning of our core democratic institutions."

The Rhode Island Chapter of the Women's March on Washington helped the group raise $7,000 towards bus transportation and insurance through Crowdrise. Kolker expects they will reach their $8,000 goal. This is not a school trip, though most are Central Falls students and many attend Central Falls High.

MORE: California HS teacher attacked by student during anti-Trump protest

Yumilka Munoz, 16, and her brother Yelvin Munoz, 17, are also among the Central Falls group. …

[She] says, "I have a lot of friends who don't have papers. And they think because [Trump] won, they're going to be thrown out of the country. They are super nervous. They don't know what to do."

She says she's excited about her first trip to the nation's capital, her first venture into activism, and learning more about "what's going on" in this society.
It may come as little surprise that Kolker sees no problem with his advocacy; he's only 24 years old.
According to his GoFundMe page, Kolker's a second-year teacher through the Teach for America program. He writes that Central Falls HS plays host to the "lowest income levels in Rhode Island" where a total of 50% of the student body needs either special education and/or ELL (English Language Learner) services.
MORE: Oklahoma HS teacher's classroom lesson: 'To be white is to be racist'
MORE: 'Dear Public Education' – HS teacher's heartfelt letter a month before quitting
Like The College Fix on Facebook / Follow us on Twitter
IMAGE: Shutterstock