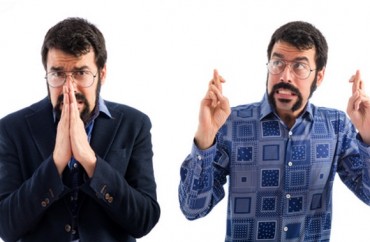 ANALYSIS: Accidentally resending old crime alert equals institutional racism?
"We are deeply saddened …"
"We have learned from our mistake …"
"We want to apologize again for the error and express regret …"
"want to apologize to black men on our campus for any burden from the mistaken alert …"
These are snippets from a recently emailed memo to Rice University students signed by no less than the director of news and media relations, chief of police, dean of graduate and postdoctoral studies, dean of undergraduates, and director of the Office of Diversity and Inclusion.
What would cause such a conglomeration of campus leaders to grovel for forgiveness? An accidental crime alert sent by campus police.
It all started last Wednesday, April 13, when Rice University sent a text through its emergency response system to students about a robbery at the Rice Memorial Center. The message read the suspect was a "black mail [sic], bald head, clean shaven, wearing black shorts and white tank top."
As it happens, this exact warning – typo and all – had been sent to Rice students a year earlier. Even in the bizarre scenario that Rice had a repeat offender, the repeat message again included the typo. Clearly, the alert was a mistake.
Indeed, it was. In less than 15 minutes, the Rice University Police Department sent an update text telling students to disregard their previous message. Not only had every detail about the suspect been inaccurate, so had the location of the crime and even the crime itself.
The correction was quickly followed-up. It came from the Director of News and Media Relations, B.J. Almond, who sent an e-mail to students explaining the error further: the officer had copied an old crime alert with the intention of pasting in the new crime information.
"The suspect from that previous incident was a black male, and that's the only reason it showed up in the text," Almond explained.
Almond apologized for the error and noted that "a timely communication can help police officers find the suspect and prevent others on campus from becoming victims." Thankfully, the alleged suspect did not hurt anyone and there were no consequences for the slip-up.
No actual consequences, it should be noted. Because it turns out that the accidental resending of an old crime alert is actually a sign of institutional racism, or something. Two days after the initial event, Rice students received another e-mail with the ominous subject line: "A letter to the Rice community."
This letter explained that "we have heard a number of concerns about [our] communications and have given them careful consideration." These concerns, though unknown in number, were clearly enough to earn a massive response. And that response was to acknowledge "the particular hurt to some members of our community that may have resulted from the series of messages."
"We want to apologize again for the error and express regret for the concerns it caused, and we particularly want to apologize to black men on our campus for any burden from the mistaken alert," the memo continued. "These perceptions were very real – and hurtful—to a number of the recipients of the texts."
"Rice has worked hard to create a campus that increases and celebrates the diversity of its students, faculty and staff," it concluded. "We are deeply saddened that this week's mistaken communication raised questions about that commitment. We have learned from our mistake and renew our commitment to ensuring an open and inclusive campus environment."
Thank goodness for that. Historically it has been shown that accidentally resending crime alerts was a major roadblock in the Civil Rights movement.
Realistically, it is likely that the administration found the complaints unserious. Unfortunately, the climate across college campuses places intense and misplaced feelings above facts. Though they earn no points for courage, Rice was covering itself. And that was no accident.
Like The College Fix on Facebook / Follow us on Twitter
IMAGE: Shutterstock