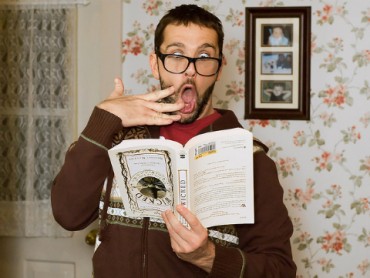 Would you believe that homophobia led the University of California-Riverside to fire a tenured English professor?
That's what Rob Latham, who is gay, is claiming in a dispute that has drawn the attention of the American Association of University Professors' Academe blog and Inside Higher Ed.
Latham says an innocuous comment he made in his professional capacity to a talented male graduate student – "I have to resist the impulse to ride you too hard too soon" – was interpreted as a gay come-on and started the ball rolling toward his firing.
According to Academe, Latham is the victim of a termination proceeding that has happened "only a handful of times" in UC-Riverside's history.
The blog published Latham's full remarks to the UC Regents, which sound like a typical lawsuit by a male student found responsible for sexual assault. The one difference: Latham was judged under the "clear and convincing" evidence standard, which is stronger than the "preponderance" standard now required by the feds for student infractions:
I can't believe that this case, which began with false charges of sexual harassment brought by a disgruntled graduate student and his girlfriend, has been allowed to reach the Board of Regents. It should have been settled through informal mediation long ago.

However, not only was no such good faith effort ever attempted by the UCR administration, but I was never even invited to respond to the charges or to submit exculpatory evidence. Instead, the administration adopted an adversarial posture from the outset, as if the original allegations—the vast majority of which we now know to be untrue—had already been proven. As Vice Provost Daniel Ozer testified at the disciplinary hearing, the administration never sought to change course even when it became clear that the two complainants had submitted doctored evidence and leveled charges that were proven false by a police investigation. Professor Ozer also testified that the administration was aware of the existence of numerous witnesses who could rebut the complainants' allegations of harassment, including some of their closest friends, yet they made no effort to contact or interview these witnesses. …

In short, the two students were lying, and we provided substantial evidence during the hearing that their lies were malicious—evidence the [Faculty Senate Hearing] Committee decided to ignore, but which a civil court will most certainly attend t0. …

I am here as the result of a misbegotten prosecution, driven by political pressures, homophobic bias, and administrative hostility.
RELATED: Brandeis branded gay student a rapist for awaking boyfriend with a kiss, suit says
The university cited Latham's past problems with substance abuse as the official reason for his termination, which Latham claims was a response to the debunked evidence for sexual harassment:
I made a serious error of judgment in relation to substance abuse, for which I sought treatment one full year before any charges were filed against me. The Senate, for whatever reason, gave me no credit for that effort at self-correction, and now Chancellor [Kim] Wilcox is asking you to dismiss me for the recurrence of a psychological illness, rather than for the original charges of flagrant, serial sexual harassment—charges that were considered and dismissed by the Hearing Committee, whose findings the Chancellor has accepted in their entirety. Yet these false charges were vigorously and recklessly pursued by the administration, in ways that amount to gross malfeasance by UCR Provost Paul D'Anieri's office. This is the tainted context in which you are being asked to make your decision.
Inside Higher Ed says the English department and grad student union is backing the complainants, whose statements were judged "not credible" and "inconsistent with contemporaneous evidence" by the hearing committee.
The publication notes that Latham contrasts his single-comment case with that of fired (heterosexual) UC-Berkeley Prof. Geoff Marcy for nearly a decade of harassment against female students.
Riverside English faculty are pissed that the Academe blog is shining a harsh spotlight on them:
"Rob takes my words out of context and gives the false impression that I was prevented from speaking on his behalf at the hearing," [Deborah] Willis wrote [in the blog comments]. "It is true that I had a high regard for Rob's teaching and scholarship before this case began […] However, by the time of the hearing, I had come to believe that Rob had profoundly betrayed my trust." …

Jennifer Doyle, another professor of English, said this "entire forum is treating our lives as click bait. It is Latham, and the AAUP, who had forced us onto this forum by publishing this document. For his victims, this forum is on a continuum with the harassment that has characterized the experience of working and studying with him — just dragged out into the public sphere. We all want that harassment to stop."
Ironically, Doyle is the author of a book (Campus Sex, Campus Security) that seems to argue campus tribunals are a joke. Just not Latham's?
Today's university administrator rides a wave of institutional insecurity, as the process of administering student protests and sexual-assault complaints rolls along a Möbius strip of shifting legality. One thing (a crime) flips into another (a violation) and back again. On campus, the criminal and civil converge, usually in the form of a hearing that mimics the rituals of a military court, with its secret committees and secret reports, and its sanctions and appeals.
Responsible blogging tip: do not manipulate people involved in a harassment case into staging that harassment as entertainment for readers.

— J Doyle (@FromaLeftWing) January 29, 2016
Latham's case appears to be another example of a university man – gay or straight – being viewed in the worst light possible and denied any semblance of fairness whenever someone claims sexual harassment or worse.
Their recourse won't be found in administrative proceedings – just the courts and the public.
RELATED: Amherst showed 'startling indifference' to the truth in 'blacked out' rape case, lawsuit says
Like The College Fix on Facebook / Follow us on Twitter
IMAGE: David Goehring/Flickr