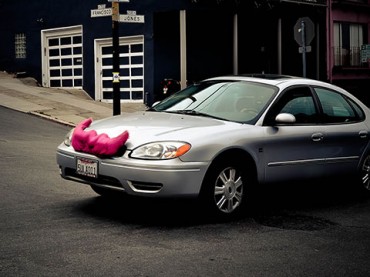 From 'ambassador' programs to puppy delivery, services ingratiate themselves on campus
Ride-sharing companies like Uber, Lyft and Sidecar have racked up a handful of victories in cities from Seattle to New York in recent months, fighting off onerous regulations intended for taxis that could have ended their services.
Limiting transportation options to public transit and taxis could have been disastrous for local college students in particular, who have flocked to ride-sharing as they question the wisdom of owning a car, as NPR reported last year.
Ride-sharing companies have courted college students through incentives and special programs. They have also emphasized their safety advantages for students as binge drinking and associated ills have drawn increasing scrutiny.
The Seattle City Council voted 8-1 earlier this month to remove a condition that the council itself imposed in March – a hard cap on how many drivers ride-sharing companies could have on the road at any one time – following a public outcry and successful referendum campaign against the rules.
Lyft, easily identified by the furry pink mustaches its drivers affix to their cars, reached a deal with New York City regulators last week that will allow it to operate under the same rules as for-hire vehicles, The New York Times reported.
That followed "an online petition to 'bring ride-sharing to New York' [that] had attracted 10,000 signatures, the company said," according to the Times.
Ride-sharing services are muscling their way into a global market previously dominated by car-sharing services like Zipcar, which are expected to reach 26 million members by 2020, according to Fleet News, citing Frost & Sullivan research from 2011.
Lyft, only two years old, operates in over 60 cities, including New York City, Los Angeles and major college communities like the University of California-Santa Barbara and Arizona State University in Tucson.
Its ambassador program pays college students to "spread the word about Lyft on campus," "identify and create partnership opportunities" with Greek life, student organizations and bars, and even help design the "playbook" for their campus.
Uber's brand ambassador program doesn't target college students specifically. The service is better known for its campus promotions. As the 2014 school year was wrapping up, Uber offered a $20 credit to first-time riders for graduation day in Philadelphia.
It also delivered puppies to stressed-out students at Stanford and Santa Clara University following finals week. Beefing up its do-gooder bona fides, Uber partnered with a dog-rescue organization, asking students for $20 donations that Uber itself would match for the rescue group.
The ride-sharing companies did not respond to requests for comment on the full range of their programs targeting campuses, such as partnerships with residence-life departments or discounts for particular student groups.
Puppies and the occasional free ride aside, ride-sharing companies are emphasizing their advantages for the kinds of activities college students enjoy, for better or worse.
Uber released the results of a "simple econometric study" in May, where it evaluated drunk-driving data pulled from arrest data in Seattle and San Francisco.
"We estimate that the entrance of Uber in Seattle caused the number of arrests for DUI to decrease by more than 10%. These results are robust and statistically significant," said Uber's blog post on the study.
Seattle Pacific University student Garrett Greene echoed this appealing feature of ride-sharing in speaking to The College Fix.
"I like Lyft because it gives me more options and flexibility at a reasonable price," Greene said.
"My buddies and I can go out for drinks and pay less than 5 bucks each, round trip. Easy, safe, and affordable."
College Fix contributor TJ Jan is a student at Seattle Pacific University.
Like The College Fix on Facebook / Follow us on Twitter
IMAGES: Vathis/Flickr, Lyft screenshot, Uber screenshot