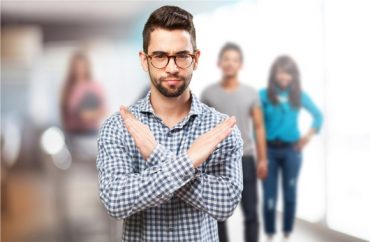 BOSTON – They're called racist. They're told their opinions don't matter. They're afraid to speak out in class for fear of being lambasted by professors or peers.
And they're sick of it.
Right-of-center students said the attacks at the small liberal arts college were enough to drive them to meet with several campus leaders and demand change.
This fall a new conservative thought class debuts, one which will host guest speakers at talks open to the campus community. And a student-led effort is underway to bring even more conservative speakers to campus.
This comes after students addressed leaders at the downtown Boston college about what they described in recent interviews with The College Fix as a vicious and even "hateful" form of progressivism on campus.
"[Emerson] has been very not open to the idea of people who have different opinions and it's really come to a boiling point over the past few months," said sophomore Erik Picone, who identifies as a libertarian.
For freshman Lexie Kaufman, her first-year experience has been so "awful" she's transferring, a decision made after she was targeted by fellow students and called a white supremacist for posting a photo with conservative provocateur Milo Yiannopoulos on Facebook.
In sit-down interviews, students discussed the situation on campus and efforts to resolve the hostility they face.
Anybody that supported Trump had no voice
The students said they knew when they decided to attend Emerson they were entering a left-leaning campus. After all, the school is located in the heart of one America's most liberal cities.
Yet, how that progressivism transcends campus is what surprises them. They described a hostile campus where right-of-center opinions are strongly opposed and students who peddle them can be susceptible to name calling and other forms of bullying.
Aside from being called a white supremacist, Kaufman said she's been called a racist to her face.
"It's hostile and there's a lot of tension, just sitting in a classroom, you can literally feel these eyes on you and all this hate if they know who you are," she said.
Meanwhile, Picone said it's not unusual for him to be called out for his gender and ethnicity.
"Anything I will say will be dismissed because I'm a straight white male. As if that has anything to do with the argument I'm saying," he said.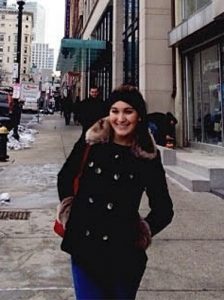 Junior Alyssa Galindo (pictured) said she's sometimes written off as "privileged little white girl." The rub: She's Cuban-American. Both sets of her grandparents hail from Cuba, fleeing communism and the Castro regime.
"I was also shocked with just the amount of bullying and labeling. I thought that was a political group that's so against that," she said of the atmosphere on campus.
It only intensified amid last November's contentious presidential election; "Trump supporter" was perhaps the strongest label on campus throughout the fall, the students said.
"Anybody that supported Trump had absolutely no voice on this campus. That was for sure," said Picone, who didn't support the president and said he got more slack as a result.
It was "hell on earth," during the election, Galindo said. It was a time where she knew class wouldn't be a typical class with discussion because they somehow almost always turned to the Republican presidential candidate. "The Trump tangent," she called it.
Then there was the election itself. Kaufman remembers feeling devastated at not being able to celebrate her party's victory on campus. She said she did not leave her room in the following days because of posts on Facebook degrading Trump voters.
Even Emerson's president referred to the results of the election as "tectonic" in an email sent the day after, mentioning faces that "betrayed weariness, fatigue and disillusionment" on campus that morning.
"Some of us feel as if our identities – our very beings – are under siege – that our virtuous hope for individual dignity and respect has been profoundly diminished and altered by this election," he wrote.
Bias seeps into the classroom, too
Like with most universities, the right-of-center students at Emerson indicated their own experiences in class depends on the professor, with some more open-minded than others. They said the opposition they face on campus is mostly student-charged, but that it sometimes still seeps into the classroom.
Take for example a recent discussion in one of Galindo's literature courses. Discussion revolved around Edith Wharton's "The House of Mirth" and suddenly turned to comparing the society in the novel to modern day conservatives, "and how they're as oppressive as the society in The House of Mirth."
Once, in a marketing class, the discussion delved into talking about group of professors at a college dressed up for a Cinco De Mayo party. Galindo said she told her classmates she didn't find it offensive and figured most other Hispanics wouldn't either.
That kicked off what she called a "frenzy," with students telling her just because she's not offended it doesn't mean others won't be.
"And I'm like, 'Am I seriously sitting here, a Hispanic, being told by other people what a Hispanic should be offended by?' I'm being told what I should be offended by," said Galindo.
Making matters worse, she said she feels she received biased grading in a diversity class because of her opinions.
Picone said most professors might not agree with conservative students, but that the majority will at least allow debate. However, he's also heard of teachers shutting down conservatives. He's experienced that himself in a literature course where he kept quiet because the professor was "so anti-everything I would've said."
"It was her way or the highway. If I would've said anything that disagreed with her, I probably would've failed," he said.
Can the problem be fixed?
Conservative and libertarian students at Emerson have voiced concern to lobby the college to be more inclusive for students who don't share progressive opinions. In the past few months, they've met with President Pelton as well as deans and trustees to discuss the issue.
The College Fix was unable to met with Pelton or Dean for Campus Life Jim Hoppe while in Boston. A campus spokesperson said they were unavailable for interviews.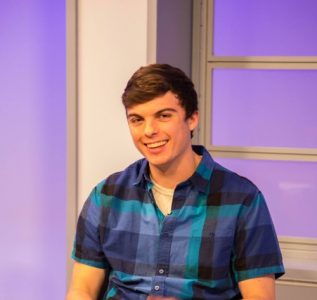 Last December, Picone (pictured) launched a petition to bring a right-wing speaker to campus. That effort is continuing with the hope of hosting a speaker this fall. A new conservative thought class is also being launched and intertwines with Picone's efforts.
Cultural Economics Professor Tylor Orme will teach "The Right Stuff: Origins of Conservative Thought." Plans are in the works to bring in three speakers as part of the course. Funds have been provided by the university president.
"These speakers will primarily be speaking to class concepts, but will also be discussing modern politics from a conservative or libertarian perspective and the presentations will be open to the campus community at large," Orme said in an email.
Picone said the incident with Kaufman opened some eyes to the severity of the treatment of right-wing students on campus.
"It started a whole controversy here and that really exposed the kind of student community we have here and the values we're trying to teach," he said.
So far, he's pleased with the administration's response. However, not everyone feels that way. Galindo said she feels there's room to grow, specifically when it comes to President Pelton.
"But it's the one," Galindo said. "It's the one who has the most power needs to be on board and I think there's a little bit of hesitation coming from our president."
And even if the administration gets on board, some noted the challenge of getting liberal students to warm their relations with right-leaning students.
"It's hard. It's really gotta be a huge shift," Picone said. Though, the situation could lead to more right-of-center students speaking up.
Junior Allyson Gottlieb, a libertarian, said she normally blends in and usually only enters conversation when she can align with other students. However, she plans to speak up after recent events on campus.
"I was so stunned by what happened with Lexie and was like that can't ever happen again. That's ridiculous. That's awful. That's unacceptable," she said.
She's cautiously optimistic about the administration's response, but knows it can only do so much. The change, she says, also must come from students, and right now there's not much openness.
But for Galindo, liberal students don't need to be on board. She doesn't need them to attend a conservative speaker's event or be in favor of the school holding such a talk.
"The reality is these [events] need to exist. There needs to be the other," she said, adding it's one reason why she plans to return for her senior year.
"I am not going out without one hell of a fight in these next two semesters. I'm seeing a conservative speaker speak. That's literally the biggest thing I want? That's crazy," she said.
Like The College Fix on Facebook / Follow us on Twitter
MORE: Conservative student flees small Boston college after year of harassment
IMAGE: Shutterstock