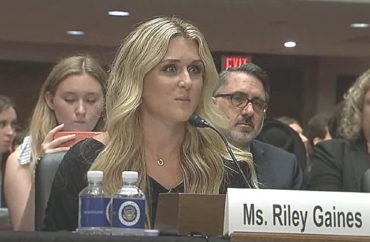 'Both Serena and Venus lost to the 203rd ranked male tennis player'
Riley Gaines was a key witness at a Senate Judiciary Committee on Wednesday to push back against efforts by Democrats to pass the Equality Act, which would add "sexual orientation" and "gender identity" as protected classes to the nation's nondiscrimination laws.
During testimony Wednesday, panelist Kelley Robinson, president of the Human Rights Campaign, refused to concede that biological men have an advantage over biological women in sports. Robison cited the claim that men cannot beat Serena Williams in tennis.
Asked to weigh in, Gaines quickly shut down the claim. "Both Serena and Venus lost to the 203rd ranked male tennis player, which — they're phenoms for women," Gaines said.
She also explained that even though she has more accolades and national rankings as an NCAA swimmer from the University of Kentucky than her husband — who also swam competitively for the school — "he could kick my butt any day of the week, without trying."
Dem witness: "There's been this news article about men that think they can beat Serena Williams in tennis. And it's just not the case. She is stronger than them." @Riley_Gaines_: "Both Serena and Venus lost to the 203rd ranked male tennis player." pic.twitter.com/MSAnV6IA5t

— Greg Price (@greg_price11) June 21, 2023
It was one highlight reel among many produced by Gaines, a spokeswoman for the Independent Women's Forum, as she told senators that gender identity policies that allow men to compete against women "exclude female athletes."
At times Gaines' testimony was emotional, and she appeared to hold back tears as she spoke of changing in the locker room alongside biological male and fellow NCAA swimmer Lia "Will" Thomas.
"A 6-foot-4, 22-year-old male equipped with and exposing male genitalia. … No one asked for our consent and we did not give our consent," she said. "… We were forced to take our swimsuit off in front of a male who was doing the exact same thing, if nothing else I truly hope how you can see this is a violation to our right to privacy and how some of us have felt uncomfortable, embarrassed and even traumatized by this experience."
"Believing in biology is not bigoted. … It is fact," she said.
She added she does not believe transgender athletes should not compete, she just asks they compete against athletes who are of the same sex.
The comments came during the "Protecting Pride: Defending the Civil Rights of LGBTQ+ Americans" committee hearing. It was chaired by Democrat Senator Dick Durbin, who opened the hearing praising Obergefell v. Hodges and the Respect for Marriage Act.
"Pride began with an act of resistance," he said. "Today we draw from that spirit to acknowledge and defend the LGTBQ community."
Republican Sen. Linsey Graham followed Durbin, acknowledging the importance of civil discourse. Graham immediately directed the conversation to women's athletics and equal opportunity for women and girls.
"Title IX was passed in 1972 to ensure that women would have a place in college athletics," Sen. Graham said. "Young girls are working hard, and on occasion they are having to compete against a biological male. And it is common sense that there is a biological advantage for males."
Matt Sharp, senior counsel for Alliance Defending Freedom, also testified for the GOP on behalf of women and children. He argued that in addition to locker rooms, shelters and prisons are also affected by the "SOGI" laws, which stand for sexual orientation and gender identity.
He pointed to a situation in which biological men who identify as women are allowed to sleep at a battered women's shelter, adding: "Laws and policies that promote gender identity ideology violate women's rights [and] endanger children."
Sharp also pointed to how free speech rights are being eroded, such as a recent case in which a student was punished for wearing a T-Shirt that said there are only two genders.
The committee hearing also featured Alabama resident Harleigh Walker, a transgender woman who argued "being transgender is not a choice."
"I am just trying to be a teenager in America. … I am having to spend my spring break lobbying for my right to exist," Walker said. "These are human rights handing in the balance. We are just like your neighbor, just like your kid."
Ximena Lopez, a transgender health specialist, was also a panelist who argued "gender health providers and hospitals are being attacked by extremists."
"This is a dangerous precedent for our society as a whole and harms us all," she said.
"Banning gender affirming care interferes with the ethical principles of medicine which includes patient autonomy, do no harm, and to provide the best treatment available. Physicians are being left to decide whether they should violate their medical ethics or break the law."
Robinson, president of the Human Rights Campaign, also said there are more than two genders and added "gender is expansive and always growing."
WATCH: Riley Gaines fights for female athletes
IMAGE: Fox News / YouTube screenshot
Like The College Fix on Facebook / Follow us on Twitter