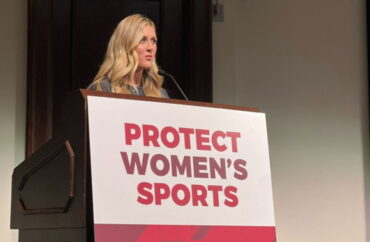 UPDATED
Penn State University has canceled Riley Gaines' "Real Women's Day" speech scheduled for today, according to a post on X on Monday night from the women's rights leader.
"No way President of Penn State makes a whole video explaining why public institutions are legally obligated to let 'bigots' apparently like me on campus to speak then proceeds to CANCEL my speech tomorrow for real women's day (X/X)😭😂," Gaines posted.
"Have it your way," she added. "See ya tomorrow with a soap box and megaphone, Penn State!"
Penn State, for its part, says that's not exactly what happened.
"No event featuring Riley Gaines has ever been canceled at Penn State," the university's media relations department told The College Fix via email Tuesday morning.
"As an institution of higher education, Penn State encourages free and open discussion as a way to strengthen our democracy and promote critical thinking and growth, and the university has a variety of speakers on its campuses," it said.
"Initially, Turning Point USA, the student group bringing Ms. Gaines to campus, sought indoor space, but did not meet the deadline for submitting the required reservation documents — an expectation upheld for any recognized student organization at Penn State," the university said.
"The group then shared alternative plans for an outdoor event to celebrate free speech, and as late as last week they had no confirmation that Ms. Gaines would attend the event, however they sent a confirmation early this morning," the email said.
"University leaders learned Monday evening via social media that Gaines is coming to the University Park campus on Oct. 10. Penn State staff have been working with the student organization to see to it that they can host a safe event under university policies and within their First Amendment rights."
Gaines was slated to speak on Tuesday, Oct. 10, to mark what is being dubbed "Real Women's Day," as the date can be spelled out with the Roman numerals XX. Biological females have two X chromosomes.
"This date, 10/10, is symbolized by the Roman numerals 'XX' – signifying what it means to be a woman, something innate in our very DNA: the science that defines a real woman," states the website for the Riley Gaines Center at the Leadership Institute. "…Women's hard-earned achievements are being stolen by men."
Additional "Real Women's Day" campus speakers today include Olivia Krolczyk at Florida State University and Paula Scanlan at the University of Illinois. Krolczyk and Scanlan, like Gaines, are both females who have spoken out against the trans narrative in sports and in the classroom.
Gaines, in her post, had included a video of Penn State President Neeli Bendapudi defending free speech, even speech some find hurtful or offensive. The video was posted one month ago, according to the university's website.
As The College Fix reported when the video was released, Bendapudi's message avoided politics and naming names. However, she did say she believes some speakers espouse "ideas that are actively hateful," and she believes everyone has a responsibility to reject "hateful speech."
"I share the concerns of those who believe the messages spread by some individuals are not only offensive but deeply hurtful, and again I stand in unity with those who condemn such speakers and their rhetoric," she said.
As a public university, however, she said Penn State must protect individuals' First Amendment rights and distribute funding "in a manner that is viewpoint neutral" to student organizations that want to bring controversial speakers to campus.
"So what can we do about speakers who come to Penn State to anger, hurt and incite members of our community?" Bendapudi continued. "Speak out clearly and firmly against hateful speech as well as other instances of discrimination. Hurtful rhetoric causes real fear and anxiety among our community, and those individuals need your support."
Gaines, in her post on X, called out the president for her apparent hypocrisy by canceling her speech.
Editor's note: The article has been updated to include a comment from Penn State.
MORE: Check out The College Fix's Campus Cancel Culture Database
Right now The College Fix has a back-to-school campaign to help us continue to support our amazing student journalists. A donation today will be matched thanks to a generous limited-time matching gift opportunity from a friend of The Fix! CLICK HERE for more details — and thank you!
IMAGE: Twitter screenshot
Like The College Fix on Facebook / Follow us on Twitter