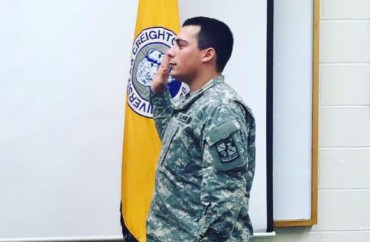 ANALYSIS
If Creighton University is "dedicated to the pursuit of truth in all its forms," as its mission statement says, it is poorly conveying those values with respect to an ROTC student who has tried to start a conservative club this academic year.
For the second time in as many semesters, the Student Life and Involvement Center (SLIC) at the Jesuit institution rejected Justin Carrizales' application to start a chapter of Turning Point USA, a nonpartisan student organization dedicated to free markets, limited government and personal responsibility.
The school has refused to explain why except to say that the proposed club is too similar to other unstated clubs at Creighton, and it has given conflicting answers on when exactly the application was rejected.
But Carrizales, who has attended leadership conference with the national Turning Point USA organization, suspects the denial was retaliation for him publicly identifying a professor who suggested Donald Trump was the "Anti-Christ" on an exam.
Fishy rejection
The ROTC student had a short interview with two students and the SLIC director, Katie Kelsey, after turning in his application, Carrizales told The College Fix.
"One of the students was there in regards to fundraising and the financial aspect, and the other was there on behalf of student life," he said. Carrizales "fully" answered questions for about 15-30 minutes on fundraising, which was "stated in the Constitution" he brought, as well as membership and "how it would be different from other clubs like College Republicans.
RELATED: Student can't start conservative club because her college already has a non-conservative club
"I conveyed all the activities we have done and what we would be hoping to do this school year and moving forward as a club," he said. "They had no further questions, and I left."
Yet the denial letter from Kelsey questioned the sustainability of the proposed club and said Carrizales had not provided enough information about it. Both Carrizales and The Fix have asked Kelsey and university media relations multiple times for more information on which organizations a Turning Point chapter would allegedly duplicate. (The "duplicate" answer has been used to reject at least one other Turning Point club.)

Under review in early December or mid-January?
Conflicting accounts of the timeline of events also make Carrizales suspicious.
He gave a screenshot of the anti-Trump exam question to Hypeline, a Turning Point website, which did not reveal his identity. But Carrizales said he was quickly revealed as the source because other students knew of his Turning Point affiliation, and he ended up writing a Facebook post about it and the professor's repeated criticism of Trump in class.
Creighton spokeswoman Cindy Workman told The Fix in an email that Carrizales' application was denied two weeks before the Hypeline story, which was published Dec. 15.
That would mean the university had waited six weeks to tell Carrizales its decision. Workman explained the discrepancy as follows: "The recommendation for denial was given to the vice provost for student life in early December. The vice provost's office returned the recommendation in January as the University was closed for the holiday and classes did not resume until mid-January."
Carrizales told The Fix that at his interview, he was told the applications would not be reviewed until Christmas break. When Carrizales called a SLIC employee Jan. 17, the day before receiving the denial letter, he was told the application was still under review.
That means university employees have given three periods during which Carrizales' application was under review: the first week of December, over Christmas break and Jan. 17.
Multiple emails to the public relations office of the university have not been returned.
EDITOR'S NOTE: The author is advising Carrizales on this dispute as part of his work with Turning Point USA. 
RELATED: Professor at Catholic university asks students on final exam: Is Trump the Anti-Christ?
Like The College Fix on Facebook / Follow us on Twitter
IMAGE: Justin Carrizales/Facebook