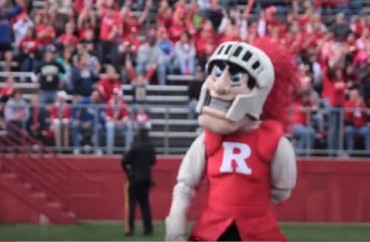 University marks 250th anniversary by launching 'enslaved and disenfranchised populations in Rutgers history' committee
As Rutgers University marks its 250th anniversary, university leaders have looked to the past, launching an "enslaved and disenfranchised populations in Rutgers history" committee to make up for "some facts that we have ignored for too long," Rutgers Chancellor Richard Edwards recently announced.
"Our campus is built on land taken from the Lenni-Lenape, and a number of our founders and early benefactors were slave holders," Edwards wrote in an email to the campus community. "Given our history as a colonial college, these are facts not unique to Rutgers, but it is time that we begin to recognize the rule that disadvantaged populations such as African Americans and Native tribes played in the University's development."
With that, Edwards announced the formation of a committee comprised of faculty, staff and students to study "enslaved and disenfranchised populations in Rutgers history." Providing examples of what the committee may do, Edwards mentioned the recommendation of historical markers or establishment of symposia, lectures and teach-ins to address history.
RELATED: Rutgers 'professor': 'There are no good white people … only less bad white people'
"The committee will be charged with examining the role that the people of these disadvantaged groups played in the founding and development of Rutgers University, and with making recommendations to me on how the University can best acknowledge their influence on history," he stated.
Early this year, Edwards created a new Diversity and Inclusion Office at Rutgers and launched a university-wide faculty diversity hiring initiative which aims to create "a diverse recruitment pool," among other efforts.
RELATED: Rutgers U. spends week celebrating alumnus who championed communism
Ironically, Rutgers students protested after Condoleezza Rice, the first female African American Secretary of State, was announced as the 2014 commencement speaker. Organizing a sit-in of more than fifty students in the president's office, protesting students drew police to the scene after shattering a glass door. Rice subsequently declined the honorary degree Rutgers was to give her and her speaking engagement.
Meanwhile, not everyone at Rutgers agrees the new committee is the best use of taxpayer money at the publicly funded university. Rutgers College Republicans spokesperson Steven Wynen said the money is needed elsewhere.
"My fellow College Republicans and I are fiscally conservative. While we are all for the excavation of history to learn from the past, they feel as I do that this is not the right allocation of Rutgers' limited resources," Wynen said. "You are to learn from the past, not dwell on it. The money would be better off going to financial aid programs or infrastructure, which are current needs."
"The bus system on campus needs maintenance and we have one of the highest in-state tuition costs in the nation," he added. "If Rutgers truly wants to move forward and compete with other big-name schools for New Jersey students, wasting thousands of dollars on this committee is not going to help."
And Save Jersey founder Matt Rooney, an attorney and blogger, also stated the new "enslaved and disenfranchised" committee is a bad decision.
"Naturally, the only way for a liberal to truly prove that he or she cares about the dispossessed is to throw money at the problem – ideally someone else's money – and form a committee to spend it. The humorless RU administration doesn't appreciate the irony of it all," Rooney wrote. "Some birthday party, huh? I don't know about you, Save Jerseyans, but digging up 250-year-old skeletons to appease professionally-offended academics and brainwashed students cowering in their safe spaces isn't exactly my idea of a fun time."
Wynen told The College Fix "it definitely appears that the decision to form the committee is a preemptive move to forestall a repeat of what happened at Yale or Mizzou at Rutgers." Yet, Wynan said that to his knowledge there have been no outcries over race relations on campus.
RELATED: Rutgers Univ. class fawned over Hillary Clinton: 'Her destiny' to become president
Like The College Fix on Facebook / Follow us on Twitter
IMAGE: YouTube screenshot