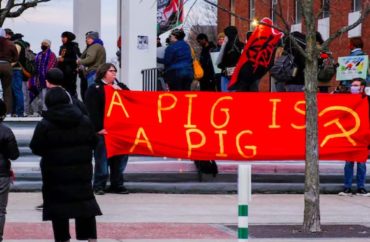 U.S. blacks 'targeted' by racist policing, military-industrial complex that uses their 'free labor'
Students from Rutgers University's All Marxist-Leninist Union and Students for Justice in Palestine got together on February 2 to protest "state violence" and hold a vigil for its victims.
According to The Daily Targum, speaker topics included a recent Israeli raid on a Palestinian refugee camp, class disparities in Peru, and the shooting deaths of Tyre Nichols and Keenan Anderson.
A large red banner was unfurled which read "A PIG IS A PIG," complete with hammer and sickle (which seemed to amuse a police officer on duty).
A flyer for the event mentioned Manuel "Tortuguita" Terán, "victims of anti-LGBTQA policing" and included a QR code linked to "an unattributed document" about the (alleged) history of policing in the United States. The document claims the origins of American police "can be tracked to slave patrols in the South," and that any police reform "has not, and will not work."
One speaker said "It all comes down to … defending property and ultimately, to upholding the genocide of Indigenous peoples of Peru, the Indigenous peoples of Palestine, of Black Americans here in the U.S. […] who are not only targeted by racist policing but are also targeted by the military-industrial complex that is using them as free labor …"
Others talked about "the accountability of the U.S. government, the prison industrial complex and governmental policing systems worldwide."
MORE: Princeton offers '#BlackLivesMatter' course with readings by an avowed Marxist
Kehinde Alonge, a teaching assistant and a Ph.D. student in the English Department, said he noticed a flyer about the vigil while walking to class on Wednesday and was glad to see the issues being addressed on campus.

Alonge said he lived in Atlanta, and the news surrounding the Atlanta Public Safety Training Center, commonly referred to as "Cop City," drove him to attend the vigil. He said he feels that the issue in Atlanta may transpire in other cities.

At a local level, Alonge said he thinks government administrations need to redistribute resources to support social assistance programs and test defunding the police.

Anthony Lino-Barbosa, a School of Arts and Sciences junior, said they attended the vigil to advocate for persecuted people worldwide.

While many students may be busy with coursework and other responsibilities, they said it is important to give the time you do have to mourn the lives of the victims of Palestine, Tyre Nichols and Keenan Anderson.
The Rutgers Students for Justice in Palestine website claims Palestine is "an issue of concern to all people, regardless of race, national origin, gender, sexual orientation, religion."
According to its site, the All Marxist-Leninist Union purports to "educate and raise the class consciousness of students, faculty, and staff about the relationship between capital and the education system, and to prepare its members for future party work."
Two of the Union's events this school year included Communist Movie Night and Everything You Know About Stalin Is A Lie! which featured Grover Furr, an English professor at Montclair State University who once said "I know they say [Stalin] killed 20, 30, 40 million people. It's bullsh*t. [I have yet to find] one crime that Stalin committed."
MORE: University offers 'How to Overthrow the State' course focused on Marxist revolutionaries
IMAGE: Daily Targum / Twitter screencap
Like The College Fix on Facebook / Follow us on Twitter