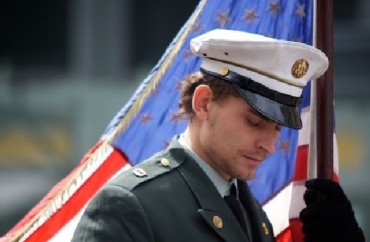 Rutgers scholar: 'We (white people) should be seen in grades of 'less bad' to balance out the ways other groups are unfairly seen'
A graduate student lecturer at Rutgers University recently tweeted "until the entire system changes there are no good white people. There are only less bad white people" to his more than 500 followers.
The tweet by Kevin Allred, a self-described queer feminist who is also white, told The College Fix in an email that he stands by his comments.
"[W]hiteness plays an invisible role in dominating and oppressing everyone else. And I'm speaking about a U.S. context specifically here," said Allred, who is currently teaching a summer course at Rutgers called "Politicizing Beyoncé."
"Our system was built on the labor of many while few benefited from that labor – those few were typically and still typically are rich, straight, white men," Allred continued in his email to The Fix. "This is a basic conversation about privileges, which I know from our exchange we have different opinions on."
(Editor's note: The author of this article informally exchanged tweets with the scholar prior to contacting him as a reporter.)
"I was trying to point out the irony that stereotypes affect people of color so that they are never seen as individuals, they are always answering for the stereotype that is applied to an entire group," Allred said in his email. "That doesn't happen to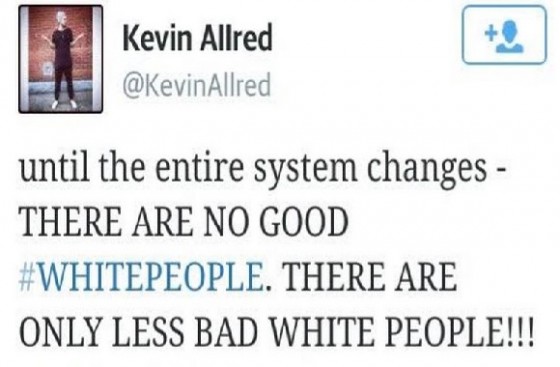 white people as a whole. … I was using 'white people' as a group to point out the ways that other people of color and other marginalized groups are usually lumped together."
"And I didn't say there are 'no good white people' – I meant until the system changes completely to erase these stereotypes in general (which was the condition on my tweet that you're taking issue with) no white people should be seen as de facto good. We (white people) should be seen in grades of 'less bad' to balance out the ways other groups are unfairly seen."
In his tweets, Allred stated friends on Facebook had taken offense to a caption "White people, NO! DON'T DO THINGS LIKE THIS" that Allred had added to a story about former Spokane-NAACP Chapter President Rachel Dolezal, a white woman who had pretended to be black. They had criticized how he grouped all white people together.
"White people never answer for the actions of other white people," tweeted Allred, later adding: "As #WHITEPEOPLE, we can pretty much anticipate that other white people are gonna do more terrible sh*t in the near future-let's be proactive."
When other Twitter users questioned his statements, Allred defended himself by saying "I'm a college professor" and "Google my name."
Allred is no stranger to media attention. He frequently guests on MSNBC's "So Popular" as a member of the "Smart A*s Pop Culture Feminist Clique." Many news outlets also covered Allred's course "Politicizing Beyoncé" when it was first offered through Rutgers University's Department of Women's and Gender Studies.
In the course, Allred discusses "the thin line Beyoncé walks as a sex kitten-cum-girl power role model," Rutgers Today reports.
On his website, Allred describes himself as "a Ph.D. candidate in Women's and Gender Studies and shamelessly outspoken independent scholar interested in black feminism, pop culture, and United States politics."
"One of his goals as a teacher, writer, and speaker is to break down barriers that exist between the academy and the lived experiences of communities by engaging students in conversations across and about difference," his website states.
College Fix reporter Jason Weaver is a student at the University of Michigan.
Like The College Fix on Facebook / Follow us on Twitter
IMAGE: Twitter screenshot