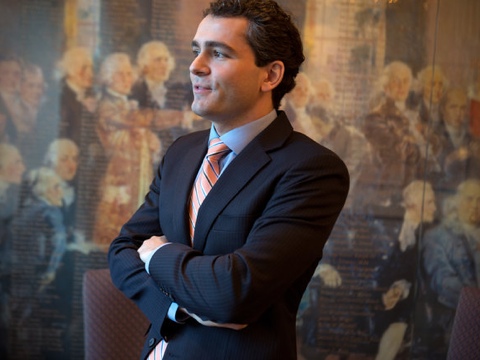 Ryan T. Anderson of the Heritage Foundation has emerged as one of the primary voices of opposition to the movement to legalize same sex marriage in the U.S. Anderson delivered a lecture entitled 'A Case Against Gay Marriage' at Boston College on Thursday, drawing an unexpectedly large crowd of students, at least some of whom attended as part of an organized opposition to his appearance.
The crowd was so large, organizers had to halt the lecture midway through in order to move the event to a larger room.
According to The Heights, a student newspaper at Boston College, Anderson said Americans are losing touch with the true purpose of marriage, which is to formalize the relationship between a biological mother and father.
Anderson argued that advocates of gay marriage are wrong to view marriage as simply an intense emotional relationship between two adults, and instead marriage should be understood, primarily, as a relationship between a father and a mother for the purpose of raising children:
Anderson began by running down a list of things upon which he would not be basing his argument: morality, sexual orientation/homosexuality, religion, tradition. "I think frequently people have an expectation of what they're going to hear," he said. "I make a philosophical and policy argument about marriage."

He then asked a question of the crowd. "From the looks of the t-shirts, this is probably a challenge for most of the audience," he said. "I want to know what you think marriage is … that's actually the question that people in favor of redefining marriage refuse to answer. And they refuse to answer that question by hiding behind what I think is a rather sloppy slogan: marriage equality."

Anderson said that everyone involved in the debate over marriage is ultimately in favor of equality. "We all want the government to treat all real marriages in the same way. The question is, what type of relationship is a marriage?"

According to Anderson, advocating a redefinition of marriage "conflates the marital relationship with companionship writ large." The increasingly common conceptualization of marriage as an intense emotional relationship with a "number one person," he said, fails to explain the tradition of American policy and marriage law.

Anderson listed the norms surrounding marriage in the U.S.: monogamy, sexual exclusivity, permanency, the involvement of the government, and the connection with family life. He asserted that each factor is not necessarily a precursor to an intense emotional connection, questioning why all are still widely accepted as martial norms even by those who advocate for marriage reform. After posing this question to the audience, Anderson went on to present a summary of the argument articulated in the book What Is Marriage? Man and Woman: A Defense, which he co-authored with Robert P. George and Sherif Girgis.

Marriage, he argued, exists as an institution not to legitimize adult relationships, but to ensure the wellbeing of children.

"From the government's perspective, marriage exists to unite a man and a woman as husband and wife to be mother and father to any children that their union creates," he said. "It's based on the truth that men and women are distinct and complementary, that reproduction requires a man and a woman, that children deserve a mother and a father. Part of this is based on the reality that there's no such thing as parenting—there's mothering and there's fathering. Men and women interact with children in distinct and unique ways, and children do best when raised with a mother and a father."

…"The marriage law in American history has traditionally incentivized men and women to commit to each other," Anderson said. "Marriage is a personal relationship that benefits the public good in a way that very few other personal relationships do. It's the least restrictive way that a political community has to ensure the wellbeing of children—it's the least restrictive, least coercive way to ensure that someone raises that child."He continued by asserting that the state could incentivize marriage between a man and a woman without criminalizing other relationships. "Another one of the sloppy slogans that I think some used here was talking about legalizing same-sex marriage, or saying that a state voted to ban same-sex marriage, that they voted to criminalize same-sex marriage," Anderson said. "Nowhere in the 50 states is it illegal for two people of the same sex to live with each other or love each other … One of the primary arguments you'll hear is that we're supposed to legalize same-sex marriage. Not having the government recognize your relationship is not the same thing as the government making your relationship illegal, and sloppy language normally reveals sloppy thinking, which normally reveals an error…"
Read more about Anderson's remarks, and students' reactions at The Heights.
Click here to LIKE The College Fix on Facebook / TWITTER: @CollegeFix