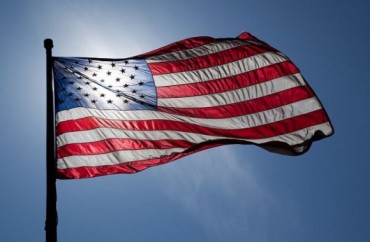 UPDATED
The principal at Travelers Rest High School in South Carolina forbade the American flag in the school football stadium last Friday because that evening's rival "has a large Hispanic community."
According to CBS Sports, Principal Lou Lavely "thought the American flags could be used for taunting the other team."
"Any decision to not allow the American flag to be used in an improper 'taunting,' unsportsmanlike manner is first and foremost in the interests of promoting the safety and well-being of all in attendance at school events," Lavely wrote.
"This decision would be made anytime that the American flag, or any other symbol, sign, cheer, or action on the part of our fans would potentially compromise the safety of all in attendance at a school event."
Lavely was backed up by the other school, Berea HS, and his own district.
"Greenville County Schools encourages and supports the appropriate display of the United States Flag in accord with the United States Flag Code," the district wrote in a statement. "We do not condone the use of the Flag to shield unsportsmanlike or inappropriate conduct. To allow such use is disrespectful to the Flag, the principles which it represents and the sacrifices of those who have and are serving to defend it."

The statement also said that there is no school or district ban on the American flag, as long as it is being used appropriately. …

MORE: US Supreme Court upholds American flag ban at school

On Saturday a Facebook post showed an image of Hunter Ballew allegedly being denied entrance to Travelers Rest's game against Berea because he was carrying an American flag.

Among other things, Ballew said, "Last night I picked my brother up from the TRHS Football game and he told me that Lavely had denied entry to a couple of young men with Americans flag (sic). … As I took the flag and attempted to enter myself [a police officer] stated, 'he has the authority to tell anyone they can't bring it on the property.' … I'm sick of this political correctness. We need to do something about it because it's not getting any better."
The US Supreme Court has upheld actions elsewhere similar to those taken by Principal Lavely, and generally has given (public) K-12 institutions rather wide latitude in regulating student behavior in the name of "orderly educational environment."
UPDATE: GreenvilleOnline reports that as of last evening, Principal Lavely has reversed his decision:
"Monday, after meeting with student and faculty leaders, Lavely reversed course.
Effective immediately, students are allowed to bring the American flag to all Travelers Rest High School events, [Greenville County Schools spokeswoman Beth] Brotherton said.
'Instead of restricting possession of the flag, the TRHS administration will, if needed, address the misuse of the flag, or any other inappropriate behavior, on an individual basis,' she said."
MORE: California school bans American flag, allows Mexican flag
MORE: Students told to stop 'USA' chant, remove American flag
Like The College Fix on Facebook / Follow us on Twitter