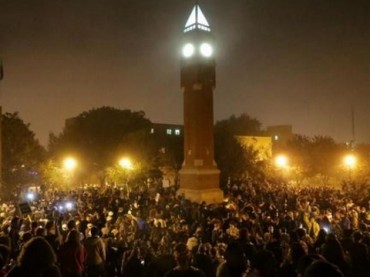 Saint Louis University has walked back controversial plans to erect a sculpture intended to capture "the spirit and importance" of a weeklong "Occupy SLU" protest last fall on the urban campus that decried oppression, racism, racial profiling and police tactics.
The decision comes as student interest in last year's Ferguson protests has waned. A university-sponsored event to commemorate the one-year anniversary of the protests included dozens of empty seats at the private, Jesuit university — just 20 miles away from Ferguson, Mo. Another campus observance drew a small group compared to the throng that occupied SLU.
For six nights last fall, students and community activists refused to leave the St. Louis campus in a protest known as "Occupy SLU," intended to serve as an extension of the summertime protests in nearby Ferguson over the police shooting of Michael Brown.
The statue was initially slated to be completed in early 2016, but more recently the university announced it's undetermined whether the artwork will even be a statue, and that a final design won't be selected until later next year.
When the sculpture's commissioning was first announced in January 2015, SLU president Fred Pestello said in a university-wide email that he "commissioned renowned African American artists and sculptors Kyle and Kelly Phelps to design a sculpture that captures the spirit and importance of the demonstration and encampment at Saint Louis University."
At the time, Pestello also told The College Fix the the most obvious space for the sculpture was "somewhere near the [SLU's] clock tower where the encampment took place."
The proposed sculpture was intended to fulfill the "mutually agreed upon artwork" of the so-called "Clock Tower Accords," a 13-point agreement negotiated with protesters in October 2014 to end their encampment.
The sculpture's commissioning drew the ire of university donors and alumni, who complained the sculpture would celebrate what amounted to an anti-police protest that included an upside-down American flag and speeches and "teach ins" on police brutality and white supremacy.
After the complaints, Pestello began to refer to the project as a "proposed university artwork" instead of a sculpture, and denied it would celebrate any anti-police sentiments, saying he envisioned the artwork as "a way to honor our shared Jesuit values that promote inclusion rather than division."
The university is now promising "an open, juried process for selecting the work," though it's unclear whether alumni, donors and students would be included in such a process.
Currently, the university has only fulfilled two of its 13 "Clock tower accords," the hiring of a diversity director and increasing the budget of the African-American studies program.
The slow implementation of the accords has riled up at least one student who participated in the protest. Junior Jonathan Pulphus, who led the protesters onto campus, told St. Louis Public Radio the university has not done enough.
"In a sense black students aren't really thriving at this institution," he said, adding "if you want to slow something down, you make a committee out of it."
Like The College Fix on Facebook / Follow us on Twitter