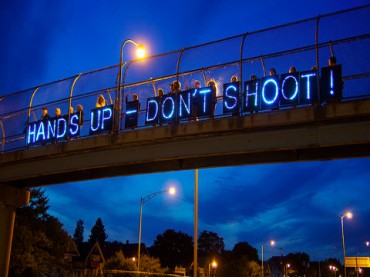 ST. LOUIS, Mo. – Saint Louis University officials recently sent students tips on how best to protest if they choose to take part in possible unrest as a result of the Ferguson grand jury decision, expected in the next week or so.
An administrator at the private college – a 20 minute drive from Ferguson – urged students to "travel in groups" if they protest in an email that also linked to several protest primers with tips on what to do if tear gassed or arrested, among other advice.
"We understand that a group of protest organizers are working hard to ensure that planned demonstrations are civil and non-violent," Dr. Kent Porterfield, vice president for student development, said in the email sent to students Nov.12. "But we also recognize, despite their best efforts, they may not be able to control the few who wish to cause trouble."
"[T]he university is planning for various scenarios," Porterfield adds, noting officials may restrict visitors on campus, including in residence halls, and will consider cancelling classes if protests occur near the urban campus. He did not specify how close to campus protests would have to occur for these measures to be taken.
Porterfield, in his email, also hyperlinked to a generic "protest prep" memo under the disclaimer that "this information is for reference only and does not specifically address any possible protests or demonstrations in our region."
"We go into a protest knowing that there is a chance that we will get arrested, tear gassed, shot with rubber bullets, or billy clubbed," stated that "protest prep" memo, which suggested "bandannas soaked in vinegar (1:15 ratio) or lemon juice in a plastic baggie helps neutralize tear gas in the event of a spraying."
The memo also offered a list of do's and don'ts.
Do bring: pen and paper; video cameras and tape recorders; warm clothes, extra socks, boots and sealed eye goggles; water and energy snacks; and duct tape, the memo says. But don't bring an address book, illegal drugs, weapons or contact lenses, it adds.
The memo also includes tips on legal advice.
"If someone is being arrested, try to write down the badge # of the officer (if they have it on), and video tape it if you can," it states. "Indy media and other organizations can use this footage, and it could potentially be used by the lawyers in suits against the cops."
Other advice sent to students included links to "How to protest safely" and the ACLU's "Know Your Rights: Demonstrations and Protests."
Saint Louis University made national headlines last month when it was the site of a six night sit-in called "Occupy SLU."
It came about as the result of protests following another police-related shooting in the nearby Shaw Neighborhood of St. Louis. The protesters, many of whom were not students, left the campus last month after SLU's president, Dr. Fred Pestello, agreed to their demands.
The university promised an increased budget for the African American studies program, more financial resources to retain African American students, establishment of a community center, and development of an academic "Center for Community and Economic Development."
Now, anxiety and uncertainty grips the university as it awaits the grand jury's decision on the Michael Brown officer-involved shooting death.
There were mixed reactions to last month's sit-in, with some who believe the university did the right thing and others who thought officials caved. These mixed feelings have also been detected in the school's planned response to possible violence regarding the grand jury decision.
Saint Louis University junior Julie Gales, a public health major, said she felt Porterfield's memo was too much.
"I think maybe (the letter) feeds into the fear," she told The College Fix. "Cancelling classes is kind of extreme to me. I don't think it's necessary. I don't think we need a response as drastic as that."
Other students have supported the administration's response. Junior Robert Tosie, a criminal justice major, said he appreciated Porterfield's letter because of its transparency.
"I was more in line with Porterfield's email than with the president's past emails, mostly because the president's emails don't really allude to the fact that bad things could happen," he said.
Both Gales and Tosie said they are fine with the university allowing students to protest the grand jury's decision on campus.
"Students definitely have the right to peacefully protest," Tosie said.
Porterfield, in his email, told students not to let non-students on campus this time around.
"Please do not invite or expect anyone other than SLU students, faculty and staff to participate," he stated.
College Fix reporter Nathan Rubbelke is a student at Saint Louis University.
RELATED: VIDEO – Speaker tells angry St. Louis crowd to 'get on the jury' as racial tensions fly
Like The College Fix on Facebook / Follow us on Twitter
IMAGE: Brigading/Flickr