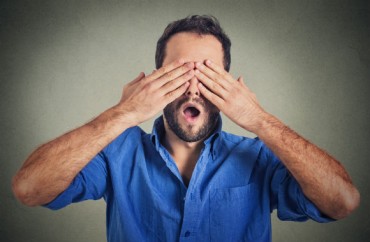 No good deed goes unpunished.
Local artist Garry D. Harley was happy that Salem State University (Massachusetts) had asked him to "create works inspired by the election for an exhibit," especially since he's no fan of the president-elect.
According to Inside Higher Ed, Harley says "the rhetoric of Trump's campaign reminded him again and again of efforts in history to demonize and subjugate black people in the United States and oppressed groups throughout history. "
As a result, Harley "pulled no punches" with his exhibit, two digital efforts based on historical photos: One featuring the Ku Klux Klan, and the other of Jews being rounded up in the Warsaw Ghetto in 1943.
Whoops.
Almost as soon as the exhibit opened, students (in particular but not exclusively black students) started complaining to Salem State officials and posting objections on Twitter. The Klan image attracted most of the criticism, but not all of it.

Two representative comments on Twitter: "Why did Salem state think it was OK to put a pic of the KKK in the art gallery during election time?? [Shaking my head]," and (with a photo of the Klan artwork) "Salem State thinks this is an acceptable piece of art to hang up in their public art gallery …"

MORE: Art exhibit of Jesus on dartboard removed from Rutgers library

Salem State first responded by trying to draw more attention to the artists' intentions regarding their works. The university typically has a booklet in the middle of the gallery in which artists' statements are provided. Officials said they believed most people weren't reading the statements, so the university took the statements and posted them next to various works of art.

The university also covered the glass doors to the gallery so that people wouldn't happen to see an image without context. Further, the university posted a sign outside the gallery stating that the exhibit contained some work that could offend some viewers.
The school then held a forum where the campus community could discuss the artwork, and after hearing students' stories about — wait for it — the pain the pics had caused them, Salem closed the exhibit.
Naturally, an apology was issued to those "who ha[d] experienced distress resulting from this exhibit."
Harley said that at the forum "the anger of the students sort of overwhelmed" his explanations of the photos, and added he thought the school was surprised by the students' anger.
"Part of displaying art at a campus, he said, is defending free expression 'and they weren't prepared to do that.'"
Welcome to the modern American campus, Mr. Harley.
MORE: Art exhibit insists 'trigger warnings are REAL and should be RESPECTED'
MORE: Cornell art exhibit bashes GOP, prof blames Tea Party for complaints
Like The College Fix on Facebook / Follow us on Twitter
IMAGE: Shutterstock