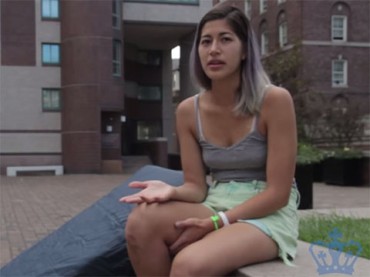 U.S. Ambassador to the United Nations Samantha Power gave the commencement address yesterday at Barnard College, a women-only institution, emphasizing lesbian, gay, bisexual and transgender rights in her speech.
She also gave kudos to Emma Sulkowicz and her "Carry That Weight" project — y'know, how she lugs a mattress around wherever she goes in order to protest her alleged sexual assault.
The Columbia Spectator reports:
Power said that the struggles of transgender people need to be included in discussions of equality, especially at women's colleges.

"Women know what it feels like to have to fight to be part of institutions whose doors should never have been closed to them," Power said. "We must all work towards the goal of ensuring equal rights for all people: lesbian, gay, bisexual, and transgender."

Power's statements on gender equality come during the final stages of discussions about Barnard's transgender admissions policy, which will be voted on this June by Barnard's board of trustees.

"You often hear people say that past generations struggled so that you would not have to, but I say past generations struggled so you would be free to fight on behalf of someone else," Power said.

Before Power's speech, outgoing Student Government Association President Julia Qian mentioned in her address the need for Barnard to admit transgender students.

Power also discussed issues of sexual violence on college campuses, referencing Emma Sulkowicz's "Carry That Weight" mattress project.

"We have too often seen colleges and universities falling short of adequately investigating and disciplining perpetrators and of protecting victims," Power said. "And yet, even as we are aware of the seriousness of this problem, it takes a woman picking up a mattress and carrying it around her campus to make people really see it."

Several students marked their graduation caps with strips of red tape as a show of solidarity and protest against the University's handling of sexual assault cases on campus.
It seems Ms. Power hasn't done much homework on Ms. Sulkowicz.
Then again, as we well know, only The Narrative really matters.
Like The College Fix on Facebook / Follow us on Twitter
IMAGE: YouTube screenshot