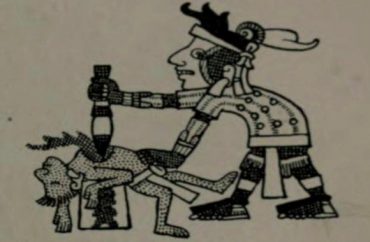 The Native American Student Alliance at San Diego State University held an event on February 15 to "discuss" ditching the college's mascot, the Aztec.
Titled "Why Do You Have To Make It About Race? Because Our Mascot Is An Aztec," the confab was attended by approximately 40 students and faculty, according to The Daily, er, Aztec.
Instead of considering the Aztecs and Aztec culture, however, the Alliance's Marissa Mendoza and Raelynn Bichitty concentrated on the atrocities perpetrated by the Spanish on Natives in California.
"Spanish soldiers kidnapped Indians by the thousands. They also were forced to care for livestock, tanned hides, and produced candles, bricks, tiles, shoes, saddles, soap and other necessities. If they misbehaved, they were whipped, branded, mutilated or even executed," read a PBS article from 2006 presented by Mendoza.
Mendoza also offered an LA Times piece which said (Native American) genocide was "sanctioned and facilitated by California officials."
Bichitty added that "in consideration of history, SDSU should not have a Native American mascot," comparing the situation to African-Americans and "blackface."
The National Collegiate Athletic Association implemented a policy in 2005 which prohibits participating teams "from displaying hostile and abusive racial, ethnic and national origin mascots, nicknames or imagery at any of the 88 NCAA championships."

SDSU's mascot was not covered by this policy after the NCAA found that the Aztecs were not a Native American culture, according to an article published in August 2005 by the San Diego Union-Tribune.

This finding was attributed to then-SDSU President Steven Weber, who said that SDSU did not find "any organized tribe or group related to Aztecs." …

Following the event, the alliance posted an official statement about the university mascot on their Facebook page. The statement said the mascot "embodies the existence of institutionalized racism." …

The Alliance presented their official statement to the Committee on Diversity, Equity and Outreach on Thursday, Feb. 23, and announced plans to email the statement to President Hirshman, Vice President of Student Affairs Eric Rivera, and Provost Chukuka S. Enwemeka.
There's a few issues to consider here. First, dubbing the Aztecs a "non-Native American culture" is rather … ethnocentric. The Aztecs originated in Mexico, which is part of North America. Consider, too, the regions further south: Central America and South America. Anyone inhabiting these regions is also "American," technically; those of us in the United States utilize the term because, well, what else would we use — "United States-er"? (Ironically, there is a word in Spanish for that: estadounidense.)
Second, not brought up in the discussion of removing the "Aztec" mascot is the fact that the Aztec civilization, though highly advanced, was a rather bloodthirsty and gruesome one.
Aztecs routinely practiced human sacrifice as part of their religion: Victims' still-beating hearts would be ripped from their bodies to honor the (Aztec) gods — which horrified even the brutal Hernán Cortés and his Spanish band of conquistadores. During certain celebrations, the frequency of sacrifices would increase, sometimes dramatically; in four days the Aztecs once performed over 80,000 in just four days.
Read the full Daily Aztec article.
MORE: Kentucky high school school ditches 'Stallion' mascot because it's 'sexist'
MORE: Angry-looking Iowa mascot promotes 'aggressivity and even violence,' prof says
MORE: College dumps 'Missionaries' mascot because it's 'noninclusive and imperialistic'
Like The College Fix on Facebook / Follow us on Twitter
IMAGE: Patrick Gray/Flickr