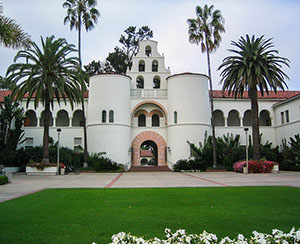 The president of San Diego State University, Elliot Hirshman, penned a laudable article for the Huffington Post about the importance of free speech on college campuses.
Now he just needs to make his own institution practice what it preaches.
Hirshman starts his piece in an odd way, implying that university policies in general uphold the principles of free speech, which is laughably naive:
Our policy on free expression at San Diego State University is similar to those at universities and colleges across the nation.
He calls it "critical to present a range of perspectives so students can understand issues and develop frameworks for thinking about these issues":
[A]ny regulation [of speech] should "maximize opportunities, in terms of time, place and manner, for free expression." The policy emphasizes that regulation should be "content neutral" and "all legal speech, even offensive speech, is permitted."
Hirshman correctly notes the university has a duty to halt the heckler's veto:
While many protesters claim that a speaker's appearance implies that the university endorses the speaker's views, this is not the case. We endorse the speaker's right to express his or her views and the audience's right to hear these views. …

If a controversial speaker comes to campus, can a group of protesters "shout down" the speaker? … Protesters can ask questions, hold up signs, present alternative speakers and express their own views. They might even shout out a phrase or two, but completely preventing an invited speaker from speaking is not within the academy's traditions or policies.
It's also anathema to free speech to force speech, he says:
Forcing someone to invite someone that they do not wish to invite is a restriction of their free expression and inconsistent with our traditions — even if the invitation might accomplish other beneficial objectives.
And niceness isn't a reason to stop speech:
While there is no question that civility or politeness is very important, it is equally important to recognize that, in our American tradition, the right to freedom of expression is unrelated to civility or politeness.
So far, so good. How does San Diego State hold up?
Christians required to disavow their faith for official recognition
It's complicated. The school draws a "yellow light" rating from the Foundation for Individual Rights in Education, meaning it has "at least one ambiguous policy that too easily encourages administrative abuse and arbitrary application."
The foundation specifically highlights as questionable the school's policies on civility; student, employee and organizational harassment (including sexual harassment); and Internet use, with one policy that sounds like the Syracuse University policy under fire by its student government.
On the other hand, San Diego State get a "green light" for its policy on protests and demonstrations and a couple others on harassment (meaning they don't "seriously imperil speech").
There's one giant honking red flag on San Diego State's rap sheet, though: It has repeatedly denied recognition to a Christian fraternity and sorority because "the groups' requirement that members share the groups' religious beliefs violated SDSU's nondiscrimination policy," as the foundation wrote two years ago.
The 9th U.S. Circuit Court of Appeals ruled that the school didn't violate the organizations' First Amendment rights (here's a very detailed analysis). Because the school's policy fell under nondiscrimination and not the "all comers" policies that have essentially banished the Christian group InterVarsity from recognition in the California State University system, "the Court had an opportunity to revisit the issue altogether" but didn't, the foundation said:
This is of course disappointing, as the Ninth Circuit's ruling sets another precedent that imperils student rights both in that federal circuit and possibly elsewhere. …

While recognizing that the [nondiscrimination] policy burdens religious groups like the Christian fraternity and sorority here, the court found that this "incidental" burden was insufficient to prove viewpoint discrimination because the policy had not been enacted with the intent or purpose of suppressing the groups' viewpoint. … This seems like a classic case of moving the goalposts: Per the Ninth Circuit, not only does viewpoint discrimination have to occur because of a challenged policy or regulation, the policy or regulation has to have been designed to discriminate by viewpoint.
So President Hirshman, if you want to walk the walk and not just talk the talk, you can start by letting Christian frats and sororities back on campus rather than treating them like bigots.
Greg Piper is an assistant editor at The College Fix. (@GregPiper)
Like The College Fix on Facebook / Follow us on Twitter
IMAGE: Photos By Clark/Flickr