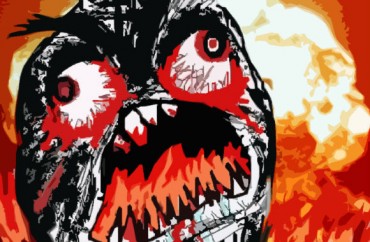 It didn't take but five minutes.
The mayor of Jerusalem, Nir Barkat, was invited to speak yesterday afternoon at San Francisco State University's Seven Hills Conference Center about his experience in the technology industry, and how that has "helped him as mayor of Israel's largest and most diverse city."
But protesters "aligned with the Students for Justice in Palestine movement" weren't going to have any of that. Within moments they began shouting down Barkat, and chanting "intifada, intifada!"
"SJP activists waving the PLO flag cheered on the current wave of terrorism against Israelis, chanting 'long live the Intifada'. Other slogans included 'From the river to the sea, Palestine will be free', a thinly veiled call for the destruction of Israel," Arutz Sheva reports.
Campus police were called, yet according to the report, "they stood idly by, allowing the unruly protesters to drown out the mayor's address."
RELATED: Academic association votes 1,040-136 in favor of anti-Israel BDS resolution
The founder of a pro-Zionist club for teenagers and emigre from the Soviet Union, Masha Merkulova, also posted a video on her Facebook page of what transpired.
San Francisco Hillel posted a statement regarding the imbroglio:
A high profile political figure was shouted down and prevented from speaking. Many students came to hear Jerusalem Mayor Nir Birkat [sic], as they had previously for other Hillel speakers this year representing a wide array of views. But a small group of hecklers came today solely to prevent the campus community from hearing a viewpoint they did not like. Unfortunately they succeeded.

There is a concerning trend that college campuses are not spaces where diverse viewpoints are tolerated. Recently, we have seen acts of outright hostility and physical aggression when one person did not agree with the views of another on campus.

We've tried incredibly hard at SF Hillel to be a responsible partner on campus for civil discourse, and to contribute to a more positive environment for dialogue, tolerance and education. Today's disappointing events demonstrate that one party alone cannot effect change; it requires the commitment of the entire University community to create a diverse place of learning that is tolerant, respectful and dedicated to its academic mission.

We are working with our partners on and off campus, and will provide further updates in the coming days and weeks. We will ensure that campus continues to be a space that promotes the robust exchange of ideas.
Impotent campus police? That sounds familiar.
SFSU right now. The campus police and SFPD are completely impotent. The speaker, Nir Barkat, spoke for about 5 mins…

Posted by Ma Sha on Wednesday, April 6, 2016
Shouting down speakers one doesn't like is modus operandi for progressives. I'm not sure something like this is the antidote, but universities had better do something before complete academic anarchy ensues.
h/t Gary Fouse.
RELATED: Don't offend anybody! Protesters at Harvard break school rules, campus cops do nothing
RELATED: UCLA student government passes anti-Israel divestment resolution
RELATED: Paid Operative Behind Anti-Israel Campus Activism
Like The College Fix on Facebook / Follow us on Twitter
IMAGE: Thoth God of Knowledge/Flickr