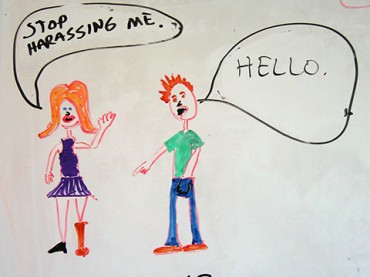 'Clear and convincing evidence' to prove you were not harassed
Having trouble paying back your federal student loans? Just say you were sexually harassed.
A California lawmaker asked the U.S. Department of Education to clear the way for alleged victims of sexual harassment or sexual assault to get "forbearance" from having to pay back their student loans on time.
And she would put a heavy burden of proof on the government to deny this extra time to alleged victims.
Democratic Rep. Jackie Speier of California has previously sponsored legislation that would remove any limits on how much the federal government could fine colleges for supposed Title IX violations. She has also been accused of violating the confidentiality of students who reported a professor as a sexual harasser.
MORE: 'Literally no limit' for Title IX fines in 'survivor' bill
In a Tuesday letter to the department's Office for Civil Rights, Speier said some "survivors" incur more debt because they need mental health services or tutoring, and if they fall below half-time enrollment, they have to start paying back their loans right away.
Some lose access to subsidized loans because they take too much time off from school, she said.
That's why OCR should take their word that they are "currently unable to make scheduled payments" owing to "poor health or other acceptable reasons," Speier said:
In order to rectify these inconsistencies, I would like to recommend that OCR clarify that experiencing sexual assault and harassment qualifies a borrower under both the "poor health" and "other acceptable reasons" justifications for forbearance.
MORE: Lawmaker may have exposed sexual-harassment victims
Existing forms should "alert them to their rights" to this forbearance – and the government should have to prove by "clear and convincing evidence" that an alleged victim seeking forbearance has not been victimized, Speier continued.
"Clear and convincing evidence" used to be a common standard by which colleges would judge students accused of sexual misconduct – until OCR told them they couldn't in its 2011 "Dear Colleague" guidance letter, now the subject of litigation.
An alleged victim would not have to file a police report or other "burdensome requirements" – or document the incident at all – to qualify for forbearance, Speier said, basing her proposal on a bill concerning alleged victims in the military:
HR-1607 would require the Department of Defense to "resolve every reasonable doubt in favor of the veteran" if an individual claims to have experienced military sexual trauma and if that opinion is shared by a mental health professional.
Practically speaking, this would mean that anyone who claims to have been sexually harassed will get forbearance if a "mental health professional" – loosely defined by Speier – back the claim. (Think of Southern California doctors who specialize in medical marijuana prescriptions.)
Speier also wants the feds to force colleges to offer alleged victims "student loan counseling" as an "interim remedy" and reimburse them for "expenses they incur due to the school's conduct."
h/t Inside Higher Ed
MORE: Accused student sues the feds to end 'unlawful' rape investigations
MORE: Student sues the feds to overturn Title IX rape rules
Like The College Fix on Facebook / Follow us on Twitter
IMAGES: Jeff C/Flickr, U.S. Department of Labor/Flickr