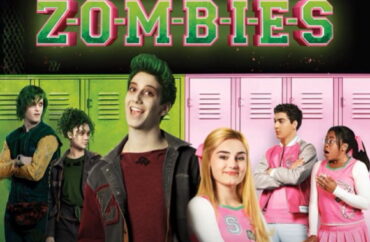 'Racial utopia for whiteness,' two media professors argue in new paper
A pair of scholars have claimed in a recent paper that Disney's "Zombies" young adult musical trilogy promotes "whiteness" and harmful racial stereotypes.
"Black Monstrosity and the Rhetoric of Whiteness in Disney's Zombies Trilogy" argues the series "sustains white power and fluidity."
Linsay Cramer, associate professor of communication, media and culture at Coastal Carolina University, and Gabriel Cruz, assistant professor of media studies at North Carolina Central University, wrote the paper for Critical Studies in Media Communication, a peer-reviewed journal.
"These films offer pedagogical narratives for children and adolescents about diversity, equity, and inclusion (DEI) that on the surface appear well-intentioned, but actually sustain whiteness through harmful stereotypical racialized representations that foster fear and mistrust of Indigenous, [Asian-American Pacific Islanders], and Black people," the Aug. 12 paper reads.
The first movie, released in 2018, depicts a charismatic zombie, Zed, and a blonde cheerleader, Addison, who fall in love throughout a series of numerous musical ballads and dance numbers and encourage their peers to see beyond skin deep.
"As Seabrook [High School] students struggle to coexist with new students from Zombietown, an unlikely friendship between a cheerleader and a zombie could unite their community for good," states the online description.
The humans represent white people "because they are situated in brightly colored suburban homes, they play and stroll on clean beaches, and they socialize in quaint, safe, clean downtown streets and restaurants," the authors argued. "Furthermore, valuing conformity, they all wear preppy, pastel-colored clothes and have midwestern accents and language choices."
However, "Zombies, who are visibly darkened with green hair and grayish skin color, have their own in-group speaking that is not understood by humans, like African American Vernacular English (AAVE) and dominant white society," the scholars wrote.
"They are also a musical and rhythmic culture that likes hip-hop, and they live in an inner-city space rather than the suburbs like the humans. Zombietown is visually constructed to reinforce their impoverished and lower-class status, specifically through repurposed, damaged building materials or actual refuse."
The College Fix emailed Cramer and Cruz to ask why they feel this type of research is important, whether they believe the film is intentionally racist, and how they think Disney should approach racial issues in the future.
Cramer did not respond to two recent inquiries. Cruz declined to comment.
The two subsequent films center on Zed's and Addison's continued efforts to promote unity and understanding as newcomers such as werewolves and aliens move into town. "ZOMBIES 3 continues what the franchise has been so good at doing, spreading messages of love, acceptance, and inclusion through song and dance," argues a 2022 review of the movie.
But the professors assert the humans in the series represent the creators' view of white people and the invaders are caricatures of black people and other minorities.
Their paper describes the fictional town in which the story is set as a "racial utopia for whiteness" where "the humans are helpless and terrified that the inherently dangerous 'monsters' (black, indigenous, and other people of color—BIPOC) have shown up in their human (white) space to kill, steal, and dominate."
The authors accuse Disney of "cultivating a post-racial anti-Blackness" through the zombie protagonist Zed, played by white actor Milo Manheim, by portraying him as "ever-threatening, yet controlled and policed."
The human female protagonist he falls in love with displays "white racial tourism," they wrote.
"We extend arguments of monster theorists … to children's media by arguing that such societal discourses and inscriptions of raced Others as monsters within children's media are born out of the rhetoric of whiteness that creates and perpetuates cultural fears of raced Others," the paper states.
Asked to weigh in on the argument, former Emory University English Professor Mark Bauerlein said that such "exotic" and "attention-getting" research hurts academia's reputation.
"The thing to remember about these outlandish academic papers is the productivity mandate," Bauerlein told The College Fix via email. "Academics must publish or perish, and the publication must involve 'original research.'"
"After 60 years of this mandate we have hundreds of thousands of books, chapters, essays, reviews, web sites, catalogs . . . covering every element of culture," the professor said. "What must a young scholar do? Come up with ever more exotic, topical, and attention-getting theses. That's what sets him apart; it's what ensures promotion (he hopes)."
"This is the way the academic game is played now, and it helps explain why academia keeps slipping in popular repute," Bauerlein said.
Cramer and Cruz cited opposition to conservative education policies as inspiration for their work.
"Situated within the context of anti-Critical Race Theory policies and the use of children and K-12 education as political pawns, the timely release of Zombies as a postracial narrative motivates this research," the paper's abstract reads.
The media scholars co-wrote another paper last year exploring "white masculine victimhood appropriation and black masculine sacrifice in Marvel's Netflix series The Punisher." Cramer describes the study of "whiteness" in culture as her "overarching goal as a scholar."
MORE: Here are cartoons and kids' movies the left has denounced as problematic
IMAGE: Disney
Like The College Fix on Facebook / Follow us on Twitter