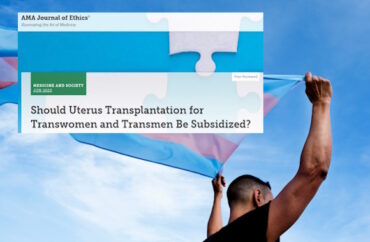 Government and private insurers have no moral reason not to pay for uterus transplants for biological males who identify as women, medical scholars wrote in a controversial June article in the American Medical Association's Journal of Ethics.
The peer-reviewed paper by Timothy Murphy, a professor at the University of Illinois College of Medicine at Chicago, and Kelsey Mumford, a medical student at the University of Texas at Austin, came to the conclusion after analyzing medical and bioethical questions regarding insurance coverage of uterus transplants, or UTx, for "transwomen and transmen."
"Even if there are limits on subsidies, the case could be made that no moral obstacle stands in the way of justifying subsidies for UTx for some transwomen and transmen, just as there seems to be no fully persuasive argument against gestating a child via UTx," they wrote.
Their article received attention and backlash. Some accused the American Medical Association of hypocrisy for taking a stance on the issue while claiming to be apolitical.
In response to the criticism, the AMA released a "fact check" stating it "has no policy or advocacy positions on uterus transplantation, nor has it proposed taxpayer funding of such procedures."
The College Fix reached out to Murphy and Mumford via email for comment regarding their paper and the controversy but did not receive a response.
Uterine transplants involve placing the uterus of a deceased or living donor into a woman of child-bearing age for the purpose of gestating a child. Typically, donor candidates for the procedure have congenital abnormalities or a past hysterectomy that prevents them from bearing children.
The procedure has had limited but growing success over the past 23 years. The first transplant occurred in 2000 and the first successful pregnancy was achieved in 2014, according to a 2017 paper cited by Murphy and Mumford.
Now, medical professionals and academics are debating whether to attempt the transplant procedure for male and female individuals who identify as transgender.
Given the recent successes with "cisgender women," Murphy and Mumford wrote that it's likely that more transgender individuals will be interested in trying it.
"Among those likely to be interested in Utx are transwomen who want to gestate their own children, transwomen who want uterus transplants to consolidate their identities but not to gestate children, some transmen who want to gestate their own children, and cismen wanting to gestate children of their own," they wrote.
Regarding the feasibility of a biological male being implanted with a uterus and gestating a child, Murphy and Mumford stated it is possible.
"Even though there has been no uterus transplant to date in transwomen that we know of, some clinicians have maintained that there are no absolute barriers in anatomy, hormones, and obstetric considerations that would rule out the possibility of successful UTx in transwomen," they wrote, referring to a 2021 Bioethics article by OB-GYNs in Montreal, Canada.
As long as guidelines are in place, they said insurance subsidies for uterus transplants for transgender individuals should be allowed. In some cases, not paying for it could be detrimental to the individual's "health and well-being," the researchers wrote.
"Transwomen lack a trait (the ability to bear children) that may cause them to experience psychological dissonance in a way that undermines their health and well-being," they wrote. "The lack of a uterus also closes off the prospect of gestating a child in a way that is available to women as a class. It follows that lack of a uterus is an obstacle to full participation in the social goods attached to women's identity."
The researchers acknowledged there are reasons for not covering the procedure, including the estimated price of $100,000 to $300,000 and the fact that many government health insurance plans do not subsidize other optional infertility treatments, such as in vitro fertilization.
They also mentioned religious objections, the patient's health, and their reasons for wanting the transplant.
Ultimately, the researchers said they did not find any ethical or medical reasons not to cover uterus transplants in at least some cases, and public and private insurers should be "free to decide what medical interventions they wish to cover and for what reasons."
Their article received criticism, with some accusing AMA leadership of taking a political stance on the issue as it has done with a number of others in recent years, including COVID mitigations, so-called gender affirming care, gun control, and abortion, while appearing to represent the association.
Breccan Thies, an investigative reporter for the Washington Examiner, described the AMA as "pushing the next phase of 'Frankenstein tech' for cross-sex procedures."
Dr. Marty Makary, a physician and Fox News medical contributor, also accused the medical group of taking an activist position.
"It is odd that the AMA is choosing to really focus on this activist position rather than fund the important research we need in transgender medicine," Makary told Fox News in an August interview. "What's the regret rate after transition surgery? What's the long term complication rate of hormones?"
In response to the criticism, the AMA's "fact check" stated its journals have editorial independence, and the views expressed in articles "are those of the author(s) and do not necessarily reflect the views and policies of the AMA."
MORE: Medical school professors, doctors redefine 'fertility' to be more inclusive
Like The College Fix on Facebook / Follow us on Twitter