A documentary currently being screened at dozens of campuses nationwide promotes the idea that "African American English" is something to be appreciated, celebrated and championed, that it's a common thread and bonding tool among descendants of slaves.
"Talking Black in America" was screened at San Diego State last week, one of many universities the film has been shown at since its debut in March 2017.
The documentary, heralded as the first film devoted solely to African-American speech, interviews various scholars, linguists and everyday African Americans living across the nation on how and why the vernacular is misunderstood and erroneously looked down upon.
The role that white supremacy and oppression played in deciding what is proper grammar is also factored into the film, as well as how "African American English" is a cultural commonality, something that's used by black communities in all parts of the nation.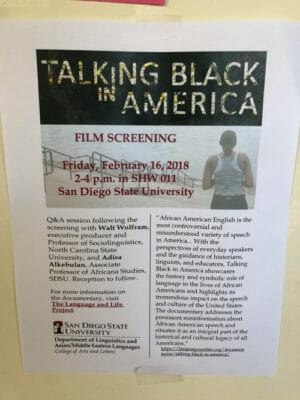 "The intent of the screening at San Diego State, and all of our screenings currently taking place across the country, is to provide insight into the most controversial and misrepresented language variety in the United States," Neal Hutcheson, co-director of the film and a senior research scholar in the English department at North Carolina State, told The College Fix via email.
Filmmakers interviewed people who suggested that the slang and improper grammar that's part of the vernacular should not be frowned upon but actually appreciated as just a dialect among the black community. With that, the film also includes a look at the Oakland Unified School Board's infamous 1996 decision to make Ebonics the official language for its black students.
"In the film, experts, scholars, artists and others highlight the historic and social forces that shaped African American vernacular varieties and illustrate the mechanics of language that reveal the essential validity of these varieties — as well as the entrenched cultural power dynamics that produce the widely held beliefs that non-standard language varieties are substandard approximations of 'proper English,'" Hutcheson told The Fix.
According to a poster created by SDSU's College of Arts and Letters, "The documentary addresses the persistent misinformation about African American speech and situates it as an integral part of the historical and cultural legacy of all Americans."
Danica Cullinan, a video producer on the film, said African American English has been more essential to American English than any other variety.
"This variety has contributed more than any other variety to American English yet it suffers from persistent public misunderstanding, linguistic profiling, and language-based discrimination," she told The College Fix via email. "The film seeks to address these issues as well as to make clear that understanding African American speech is absolutely critical to understanding the way we talk today."
After the film screening at San Diego State, a Q&A session followed with the film's Executive Producer Walt Wolfram.
Wolfram, an English professor at North Carolina State, told The College Fix that the film serves to "offer a celebration of African American speech to counter stereotypes and prejudices that permeate American society."
MORE: Prof suspended for singing along to 'happy nig-gah' rap song
Like The College Fix on Facebook / Follow us on Twitter