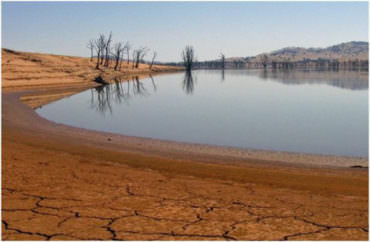 Much like racism, virtually anything can somehow be attributed to global warming/climate change. According to various scholars, the latest example is the recent anti-government protests in Iran.
"Rising temperatures are seen by some experts as an underlying condition for the economic hardships that led to the unrest," reports ClimateWire's Scott Waldman.
"While the protests are largely driven by resistance to the country's hardline conservative government," Waldman continues, "such environmental factors might have contributed to the largest protests inside Iran in years."
According to Amir Handjani, senior fellow at the Atlantic Council's South Asia Center, that human bastion of climate concern, former Iranian leader Mahmoud Ahmadinejad, had addressed the problem by providing subsidies to Iranians whose farms were "ravaged" by changing climate, and to families which "struggled to put food on the table."
Even Supreme Leader Ayatollah Ali Khamenei said his country needed to address environmental change. He wrote in 2015 that Iran must "manage climate change and environment threats such as desertification, especially dust pollution [and] drought."
However, current president Hassan Rouhani had said that he'd reduce the government subsidies, and this led to "enraged" Iranians "across the nation's arid countryside" joining the recent demonstrations.
The Atlantic Council's Barbara Slavin notes climate change's role in the protests is "massive," and "underreported" by the media:
"Iran has had a drought for 14 years, and many of these people who come into these provincial cities and towns are there because they could not function as farmers anymore; there was no water for their farms."
"The drought has certainly impacted Iran's economy broadly, and it's impacted quality of life and living patterns, migration patterns around Iran quite considerably," [Suzanne Maloney, a senior fellow at the Brookings Institution's Energy Security and Climate Initiative] said. "It's an issue of huge political importance, one that factored into the presidential election last year, so it's certainly something I think one can say has had a role in shaping frustrations and driving some of the underlying grievances around the protests."

Iran is increasingly vulnerable to climate change, experts say. Rainfall in the Middle East is expected to fall 20 percent by the end of the century, and temperatures could rise by as much as 5 degrees Celsius, according to the Intergovernmental Panel on Climate Change.

By 2070, the Persian Gulf could experience a spike in heat waves that are hard for humans to survive, according to a Massachusetts Institute of Technology study published in 2015. The worst effects of such extremes could be curtailed with a drop in emissions from fossil fuels, a large percentage of which come from fossil fuels derived from the Middle East. …

There is a growing sense of environmentalism in Iran, in response to the drought and deadly heat waves, said Kaveh Ehsani, a professor at DePaul University and an expert on Iranian politics. Extreme heat waves have hit a large percentage of impoverished Iranians in particular, he said. …

Environmental issues have brought some protesters into the streets, Ehsani said, in part because climate change is now seen as a contributor to inequity. Newscasts on the environment are potentially reinforcing Iranian views, since that topic is not generally censured by government officials. Environmental issues aren't seen through the same political lens as they are in the United States, he said.
Ehsani adds that President Trump's climate change skepticism and US withdrawal from the Paris climate accords "mean that Iranian citizens are increasingly blaming environmental problems" on the US.
The Atlantic Council's Slavin says "If the United States really cared about the welfare of the Iranian people, it would allow organizations like the U.N. environmental program to make loans to Iran, to provide expertise to Iran to help them with these issues."
However, the US sanctions against Iran forbid such cooperation.
MORE: Prof: Use hamsters, reptiles as pets because climate change
MORE: Fed up with the BS, prominent climate skeptic professor retires
IMAGE: Tim J. Keegan/Flickr
Like The College Fix on Facebook / Follow us on Twitter