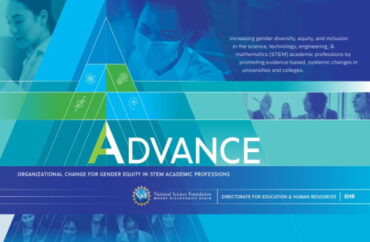 Despite 20 years of investment, women make up only 20 percent of engineering students and tenure-track faculty
The National Science Foundation has tapped a set of scholars to study one of its programs that funneled $365 million into diversifying STEM, but appears to have had little effect in the field of engineering.
The $300,000 grant doled out by the National Science Foundation will investigate factors influencing Broadening Participation Initiatives, or BPIs, which aim to increase the participation of women and other underrepresented groups in STEM.
The grant was recently awarded to the University at Buffalo's Matilde Sánchez-Peña, an assistant professor of engineering education.
An article published by the University at Buffalo's news center highlights how Sánchez-Peña and her colleagues will use their recently awarded NSF grant to "study why, despite 20 years of investment, woman [sic] make up only 20% of engineering students and tenure-track faculty."
As the leader of the Diversity Assessment Research in Engineering to Catalyze the Advancement of Respect and Equity, or DAREtoCARE lab, at the University at Buffalo, Sánchez-Peña strives to "progress engineering as a more diverse field through rigorous research on the advancement of women and other minorities at all levels of engineering."
Other members of the team include Sánchez-Peña's fellow University at Buffalo engineering education professor, Corey Schimpf, and Juan Cruz, an assistant professor from Rowan University's College of Engineering.
The award abstract for the project states Sánchez-Peña and her colleagues plan to focus on efforts tied to the NSF's ADVANCE program, a BPI they describe as "exemplary" and "well-established."
The goal of ADVANCE, according to the NSF website, "is to increase the representation and advancement of women in academic science and engineering careers, thereby contributing to the development of a more diverse science and engineering workforce."
"ADVANCE encourages institutions of higher education and the broader science, technology, engineering and mathematics (STEM) community … to address various aspects of STEM academic culture and institutional structure that may differentially affect women faculty and academic administrators," the site states.
At the time of the program's twentieth anniversary in 2021, the NSF reported it had invested over $365 million in the program and had distributed funds to "217 different institutions of higher education in 48 states, the District of Columbia, and Puerto Rico."
The College Fix reached out to Sánchez-Peña and her colleagues regarding whether they viewed the $365 million ADVANCE program as a success or failure given the numbers reported in the University at Buffalo news center article, but did not receive a response.
One of the beneficiaries of the NSF's ADVANCE program highlighted in a 2021 newsletter from the Division of Human Resource Development is the American Association for the Advancement of Science's STEM Equity Achievement, or SEA Change initiative, which "incentivizes institutions to collect and report demographic data on students and faculty, as well as equity policies and programs" through a tiered bronze, silver, and gold recognition and reward system.
Other recipients noted in the document include the University of California at Irvine, the University of Wisconsin-Madison, and the University of Michigan-Ann Arbor, all of which received ADVANCE grants to develop or further various DEI goals on their campuses.
In their award abstract, Sánchez-Peña and her colleagues state that through their project they intend to "create a comprehensive theoretical model of the complex dynamics and distinct configurations of factors that lead to the outcomes targeted by a BPI" and "refine the theory of drivers and barriers to the BPI goals."
The aims of their research, they state, include testing the capabilities of different analytical and modeling techniques in "refining theories for institutional change" and "innovat[ing] in the translation of qualitative evidence into quantitative performance measures" that could aid in modeling the impact of Broadening Participation Initiatives.
To do this, Sánchez-Peña and her colleagues state they will divide their project into two phases.
In the first phase, they state, they intend to collect publicly available data from 15 top-tier research institutions that were early recipients of ADVANCE grants from the NSF and 15 comparable institutions that did not receive such grants, then attempt to identify "different theoretical paths leading to outcomes related to the recruitment and retention of women, particularly women of color."
In the second phase of the project, they state, they plan to conduct focus groups and analyze data from "interviews with women faculty and administrators from a subset of the selected institutions."
"The research outcomes of this project," they state, "will include (1) refined theories of institutional change for the advancement of women faculty in engineering, including potentially new and confirmed causal relationships, as well as identification of persisting barriers and points of leverage for women[']s success, (2) methodological innovations in translating qualitative data to quantitative performance measures, and the use of complex systems methods to study institutional change."
MORE: 'Too rock heavy,' too ableist, too white: Geoscience students identify concerns in field
IMAGE: National Science Foundation
Like The College Fix on Facebook / Follow us on Twitter