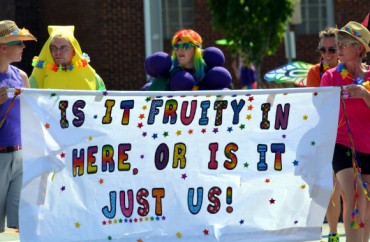 On the self-contradictory nature of identity politics
So it turns out that an alumni organization at the University of Virginia offers a scholarship for "highly motivated gay male students." The Serpentine Society, an LGBTQ-centric alumni group, offers young gay men (or at least the highly motivated ones) up to $10,000 toward their tuition at Mr. Jefferson's University. The awarding of the grant is based on "the students' academic achievements, essays, recommendations, extracurricular activities, and awards demonstrating exceptional commitment to bettering the LGBT community." Well, and their sexual orientation, I suppose.
On the one hand, one is moved to say: so what? Who cares who gets what scholarship and why? The Serpentine Society is certainly free to allocate its funds however and to whomever it chooses.
But there is a weirdness here, a kind of mild cognitive dissonance that can't readily be ignored. The past few decades of progressive politics have instructed us that we are to look upon various identity groups—especially the sexualized identities, those along the ever-shifting and ever-expanding LGBTQ spectrum—in the same way that we look upon anybody else. There is a great deal of truth to this.
But then the question inevitably arises: if we are indeed supposed to look at everyone—gay, straight, bisexual, two-spirit—as equal, then how can one justify a narrowly-tailored scholarship that signals out gay men as special in some way? Is there a quality to gay maleness that sets it apart from the general population and renders it a valuable part of the campus community? If so, what is it?
(Then again, perhaps the point of such programs is simply to help boost the on-campus population of an historically underrepresented group. Well, fine: the best data we have for LGBT population statistics shows that less than 2% of the entire population identifies as gay. If that's the number that activists are shooting for, it shouldn't be that hard, and can probably quite easily be accomplished without a scholarship; indeed, in many cases, the percentage of self-identified LGBT students on campus vastly exceeds their population in wider society.)
LGBT students, of course, are just as deserving as anyone else of both a college education and scholarships to help secure that education. Yet one cannot help but wonder why, in more than a few cases, they are signaled out for special treatment. In one instance we are asked to accept everyone as moral equals; in another instance we are expected to accept very specialized and preferential treatment for certain demographics. The former is good; the latter suggest that there is something markedly different about the target group, something worth treating them differently than the rest of the population. By which maxim should we abide?
MORE: Duke University offers scholarship that excludes heterosexual students
IMAGE: Flickr
Like The College Fix on Facebook / Follow us on Twitter