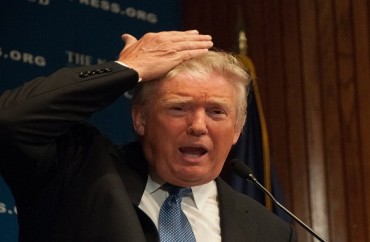 A member of the Knoxville (Iowa) Community School District Board has resigned due to a post he made on Facebook suggesting President Trump should be killed.
Mike Helle allegedly had written "I was saying that Trump (Twitter) needs to be neutralized. Trump needs to take in a show at Ford's Theater."
The theater is where President Abraham Lincoln was assassinated on April 14, 1865.
According to the Journal-Express, radio station WHO 1040 reported on Helle's comments and noted officials had contacted the Knoxville Police Department about them. A member of the department then confirmed it had turned the matter over to the Secret Service.
District Superintendent Cassi Pearson and board President Andrew Schmidt received a text from Helle Thursday evening informing them of his resignation.
In a follow-up email that same night, Helle said "I feel it is in the best interest of the Knoxville School District if I resign from the Knoxville School Board immediately.
"I have enjoyed my 12 years on the board and I know that we have accomplished many positive things."
"[The alleged post] In no way reflects the feelings of the school district or the school board," Pearson said. "He has a very strong political view that he is not shy about." …

"It appeared to be on his [Facebook] account," [Knoxville police Lt. Aaron] Fuller said of the alleged post on Helle's personal wall. "We do not have an open investigation, [but] something like this is definitely something that we are going to turn over to the Secret Service and assist them in any manner they request."

Due to Helle's resignation,  a new school board member will need to be appointed to the board, Pearson said. Due to a state law regarding election deadlines, the 180-day window for a special election has passed because board elections are already set for September.

"We will do an appointment [to the board]," Pearson said of filling the vacant seat left open by Helle's resignation. "A notification will be put in the newspaper of record giving notification that residents can petition for a special election. But the outcome will not matter due to the 180-day window."
In a statement to KNIA, Helle said "If I could share one important thought with all of your listeners it would be to be careful of what you post online because one comment taken out of a string of back and forth post(s) can and will be taken out of context."
He did not, however, explain how the comments were "out of context."
MORE: High school English class skit: 'The Assassination of Donald Trump'
MORE: FBI, Secret Service look into Fresno State prof's threatening anti-Trump tweets
h/t to EAGNews.org
Like The College Fix on Facebook / Follow us on Twitter
IMAGE: Shutterstock