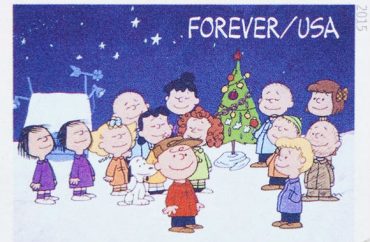 You'd think that people who work in K-12 education would be able to read, but it's not so clear in the Killeen (Texas) Independent School District.
After a principal threatened a school nurse last week for putting a handwritten poster with a quote from A Charlie Brown Christmas on her door, and the school board stood by the principal, Texas Attorney General Ken Paxton issued his own threat, The Washington Post reports.
In the quote, Linus tells Charlie Brown the original and historically accurate meaning of Christmas: "For unto you is born this day in the city of David a Savior which is Christ the Lord. That's what Christmas is all about, Charlie Brown." (Linus is citing Luke 2:11, King James Version.)
The school district claims that an accurate summary of Christmas's original meaning violates the state's Merry Christmas law "by promoting Christianity without also acknowledging other secular symbols, such as a snowman, or other winter religious traditions, such as Hanukkah — a requirement of the statute," the Post says.
It argues that while "employees are free to celebrate the Christmas and holiday season in the manner of their choosing," they are "not permitted to impose their personal beliefs on students" – without explaining how the nurse imposed her beliefs.
Paxton reprimanded the school district for misreading the law, which he said does not obligate individual employees to rattle off a smorgasbord of winter-related symbols if they want to talk about just one of them:
The statute explicitly grants school districts the option of educating its students about traditional winter holidays, the meaning of these holidays, and how they are referenced in history and pop culture, which 'A Charlie Brown Christmas' certainly satisfies.
AG Paxton Releases Letter Sent to Killeen ISD Board of Trustees onForced removal of a Christmas decoration pic.twitter.com/HzcfQvTwaf

— Texas State News (@TexasStateNew) December 13, 2016
The school district also got a hostile letter from the nurse's lawyers at Texas Values, which said the quote cited by Dedra Shannon was less of an "establishment of religion" than the Pledge of Allegiance:
This display is nothing more than a personal expression of Ms. Shannon's lawful ability to share the history of Christmas, and a scene or symbol associated with a traditional winter celebration of Christmas, per state law. It does not bear the imprimatur of the State, and it does not "establish" Christianity as the official religion of Texas.

The school district's suggestion that Ms. Shannon is "impos[ing] [her] personal beliefs on students" by decorating her door in this manner is hyperbolic and defamatory, and evinces a gross hostility to religion.
The school board voted 6-1 Tuesday night "to study and develop new guidelines for making Christian references at school — a motion that would postpone any immediate action regarding the poster in question," KCEN TV reports.
That's an abdication of its duty to defend the nurse's constitutional rights, Texas Values President Jonathan Saenz said after the vote:
He said the school board was misinterpreting the law — for which he helped draft the original language. … On Tuesday, Saenz hinted his organization would consider legal action if KISD does not allow the poster to return.

"Just about everyone that you hear from cannot believe that we've reached a place in America and in Texas, where a Charlie Brown Christmas poster is being torn down in our public schools," Saenz said.
The Post says the famous scene in A Charlie Brown Christmas was almost nixed before it was made because CBS was uncomfortable with an explicit mention of religion, but Peanuts creator Charles Schulz – who identified as a "secular humanist" – insisted on including the verse.
Read the Post story and KCEN report.
Like The College Fix on Facebook / Follow us on Twitter
IMAGE: catwalker/Shutterstock