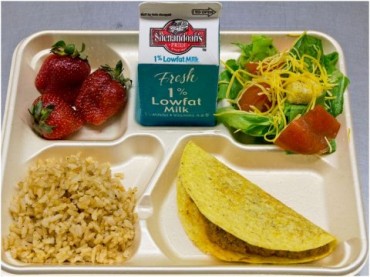 Dakota Valley Elementary School cafeteria manager Della Curry was fired last Friday for giving free meals to students who had forgotten their lunch money.
These were not students who qualified for free or reduced lunch, mind you. They were students who had just plain forgotten their cash.
"I had a first grader in front of me, crying, because she doesn't have enough money for lunch. Yes, I gave her lunch," Curry said in a local interview.
But students who happen to have no money with them do get a lunch: a cheese sandwich and a small milk.
Curry says that is "insufficient."
"I'll own that I broke the law. The law needs to change," she said.

To qualify for the free lunch program, a family of four would have to have a household income of around $31,000. To qualify for a reduced lunch, the threshold is below $45,000.

Curry says the students she helped did not qualify for either program.

"Kids whose parents make too much money to qualify, but a lot of times they don't have enough money to eat," she said.

Parent Darnell Hill says Curry had helped out his son when he forgot his lunch money.

He said, "Do something different than fire her. She's trying to help."

Curry said she understands the school district was just following policy when it fired her. Now she's hoping her story will lead to some changes.

"If me getting fired for it is one way that we can try to change this, I'll take it in a heartbeat," she said.

The Cherry Creek School District said they cannot comment on personnel issues, but said "anyone who has ever been terminated has violated some kind of written policy."
In a statement, the school district said,
The law does not require the school district to provide the meal to children who have forgotten their lunch money, that is a district decision. According to our practice, we provide hot meals to students the first three times they forget their lunch money and charge their parents' accounts. The fourth time, we provide a cheese sandwich and milk.
Termination seems like excessive punishment if Ms. Curry only provided the gratis meals in a few instances and received no prior warnings about it.
That being said, what's the problem with a cheese sandwich one (or two) times if a kid forgets his money? It sure sounds a lot more appealing than one of the First Lady's "healthy" school lunch options, after all.
And if parents like don't like that option (remember, the district offers that meal of their own volition — there's no state requirement to do it), maybe they can make their kids a (filling bag) lunch themselves.
Like The College Fix on Facebook / Follow us on Twitter
IMAGE: DC Central Kitchen/Flickr