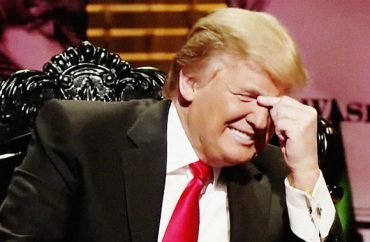 A mural painted on a wall at a California school shows President Trump's decapitated head with an Aztec's spear through his mouth.
Artist Sasha Andrade created the image during Battlegroundz, a "graffiti expo" at the MAAC Community Charter School in Chula Vista. The expo raises student scholarship monies.
The Washington Post reports that due to its graphic nature, the school ended up covering the mural while Andrade works to "modify" it.
"We understand that there was a mural painted at the event this past weekend that does not align with our school's philosophy of nonviolence," school director Tommy Ramirez said. "We have been in communication with the artist — who has agreed to modify the artwork — to better align with the school's philosophy."
On social media, however, Andrade remained defiant. The Post notes she posted "They can try to #censor it but here it is guys!!!!" on Instagram and Twitter before eventually deleting it; however, the comment remains on Facebook:
The Secret Service is aware of the incident, agency spokesman Joseph A. Casey told The Washington Post in a statement Saturday, but he would not say if Andrade's painting is the subject of an investigation by its protective intelligence division.

Andrade's mural drew heated debate on social media and locally in Chula Vista, a city of a quarter of a million people heavily populated by Hispanics and about 10 miles from the border with Mexico. …

Andrade uploaded a photo to Facebook on April 29 showing her filling in green headdress feathers with spray paint. The Trump mural, with the tip of the spear protruding from his mouth, appears to be complete. But it is unclear when the photo was taken.

It is also unclear when the mural was completed, or if school officials knew about or reviewed the painting before the Battlegroundz event. Francia Baluca, a spokesman for the nonprofit that oversees the school, said the organization is investigating how and when school officials became aware of the mural, the San Diego Union-Tribune reported.
Andrade's Facebook page cover image is a picture of her painting the mural. Recent posts show her boasting that comedian George López "liked" her post about the controversy, and her complaining about the criticism she's received:
This is the "America" we live in , hate threats to the extent of bashing my deceased baby nephew, really? And it comes from a "grown" man that apparently wasn't raised the right way , talking about killing and God in the same message , but hey if the so called "President" does it they think its "ok", because that is the only thing this man has done, bring racism and white supremacists to hide behind their computers and harass anyone who does not support trump.
It irritates me and saddens me that this is the country we are living in full of hate and fascist people.
AND THEY SAY THAT WE ARE THE CRIMINALS!!!
MORE: Trump beheaded in painting showcased at public university
MORE: School board member: Make America Great Again 'with a clean head shot'
IMAGE: YouTube
Like The College Fix on Facebook / Follow us on Twitter