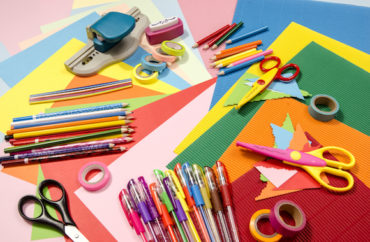 Also a 'bouncy castle obstacle course'
Numerous schools are offering adult students opportunities to do arts and crafts as part of de-stressing campaigns.
The University of Oklahoma will give students a "De-Stress Fest" later this semester. In addition to offering "crafts," the event gives students "food, professional massages, games…[and a] professional photo booth."
"All free to help celebrate your endurance and success!" the listing states. The event even features a "a bouncy castle obstacle course!"
Next week at Louisiana State University, meanwhile, students can attend a "Post Midterm Destress" at which attendees "will be making crafts and eating snacks to relax after the stress of midterms." The university's law school has also offered "stress relief puppy petting" in the past.
The University of North Carolina at Pembroke also gives students opportunities to create crafts in order to destress from class tests. The school, which like the University of Oklahoma calls its event "De-Stress Fest,"  lets students "unplug, de-stress, and relax with make-n-take crafts during exam week."
In the past students at that school have also been treated to puppy therapy sessions. At one of those sessions a few years ago, students "appeared as if attracted by a magnetic force," the school's news service reported.
MORE: Colleges turn to coloring books to de-stress students
IMAGE: luanateutzi / Shutterstock.com
Like The College Fix on Facebook / Follow us on Twitter