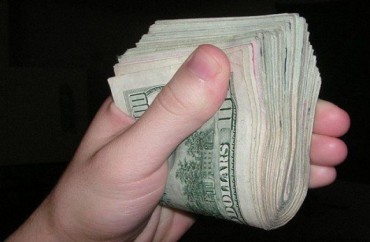 Our fall fundraising campaign runs through Sept. 30, so please consider a tax-deductible donation of any amount to help us continue to publish the best campus news in the nation. Thanks for your support!
The student newspaper for the University of Alaska-Anchorage used public records requests to see how much the school was paying invited speakers, and some of them command a nice sum.
The Northern Light looked at data via the campus Student Life and Leadership over the last three years. The priciest speaker was Bill Nye "The [Fake] Science Guy" who cost the school over $40,000 for 135 minutes worth of time: a 60-minute "performance" followed by a 30-minute Q&A session, then concluding with VIP gathering "for a maximum of 45 minutes."
At about half that cost UAA was treated to Black Lives Matter activist Shaun King ($21,000) for the same amount of time. King, along with frequent cable news talking head Marc Lamont Hill, were contracted through the group Great Black Speakers, LLC. (Somehow, King managed to snag $1,000 more than Hill and LGBT activist Dan Savage.)
UAA Student Boards Coordinator and Media Adviser Zac Clark said Alaska's location accounts for the higher costs:
"The problem we have in Alaska, what makes us unique for universities and other concert venues in the Lower 48, you can get there by bus…If you are coming to Alaska you have to fly and you also lose two potential show days," Clark said. "The day before and the day after. So when you're looking at these artists you instantly have to pay more than like someone in Washington because you have to pay to fly them up and they lose those dates. You have to factor in that you are probably going to pay 15, 20 percent more just on average, and that you are going to have a hard time when you are trying to book someone as part of a national tour." …

"People forget for a lot of these people, this is their job," Clark said. "So there's always like just thoughts of 'Why does this person cost so much?' Because that's what people would pay to get them here… When you just look and see the price of some these artists, you don't always get the full price and context for why that is."
"Informal emcee" for Student Life and Leadership lectures Demry Mebane said UAA needs big name speakers:
The goal of Student Activities is to engage students, and particularly here at UAA I think that's a struggle because we have so many commuter students. So the question is posed: how do we get students to actually want to engage with their campus?

[…] having big names like Bill Nye, or Shaun King, or even like First Tuesday poets flying up is something that's really important for this university to get its students engaged. Anything that can bolster the student life of this campus, I think is intrinsically just a good thing.
Nye, who's actually a mechanical engineer, has pondered criminalizing climate change denial and connected global warming to Islamic terrorists. He recently was roundly panned for this ridiculous segment from his Netflix show.
King, a "senior justice writer" for the New York Daily News, is a frequent "go to" guy on social media whenever someone believes a racial injustice has been committed. He currently is working on his PhD in history.
Read the full Northern Light story.
MORE: Cornell conservative groups: We bear 'disproportionate' fee burden for our speakers
MORE: UC-Berkeley: We're not setting a precedent by paying for Ben Shapiro event
Like The College Fix on Facebook / Follow us on Twitter