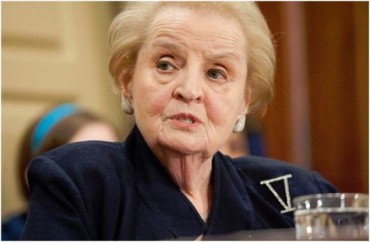 Students and (allegedly) some faculty are upset at the decision to invite former Secretary of State Madeleine Albright as Scripps College commencement speaker.
Part of the reason is the belief that she "enabled genocide" by yanking UN and US troops out of Rwanda in the mid-1990s.
Another is because she is a white feminist. It's 2016, after all. Where are all the POC — People of Color?
"*Just out of curiosity* does anyone know how many POC we've had as guest commencement speakers at Scripps? 2…3?" asked another student. "real question. real problem," asked one student on social media.
The Claremont Independent reports:
Several students were upset by the decision to invite Dr. Albright to speak at graduation. An article in The Student Life (TSL) described Albright as a "white feminist and repeated genocide enabler" because she removed UN peacekeepers and U.S. troops from Rwanda and supported military intervention in the Balkans.

Many other students were concerned by the fact that Albright is white, and expressed their sentiments on social media. "2012 and like 2008 appeared to be people of color. but also SO MANY white women," a student stated.

One student even called for a protest of the event. "With Madeline [sic] Albright being our commencement speaker (and a war criminal and a white feminist) I know some of our professors are refusing to be on stage. I was wondering if any of the students were planning a protest or perhaps some sort of show of disagreement with Albright and what she stands for?"
However, student Olivia Wu said the negativity expressed towards Albright "just because of her race" is "ridiculous when considering her achievements."
"Having the opportunity to listen to Madeleine Albright speak during commencement is something graduating students, and Scripps students in general, should be appreciative of," she said.
Back in early February Albright had remarked that "[t]here's a special place in hell for women who don't help each other."
RELATED: Women's college student president alerts police to 'Trump 2016' drawing, calls it 'racist act'
RELATED: Conservative Columnist George Will Disinvited to Speak at Women's College
Like The College Fix on Facebook / Follow us on Twitter
IMAGE: Miller Center/Flickr