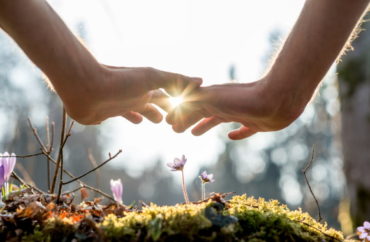 'The Aztecs weren't just warriors,' says scholar 
San Diego State University's Aztec mascot has long been a source of contention among some within the campus community who argue it's offensive, but a $250,000 "healing garden" under construction at the public university aims to help ease some of that tension.
The healing garden is meant to honor Native Americans and the Aztec culture "at a time when we need to 'heal' over the issue of indigenous identities," according to a 2018 Aztec Identity Task Force report.
The garden is currently under construction in an unpopulated corner behind the university's communications building.
Once finished, it "is envisioned as a spot where the curative practices of indigenous peoples may be shared and where SDSU community members may come and 'heal' mentally, physically and emotionally in a beautiful space," according to the university's website.
According to a budget report obtained by The College Fix, the one-time $250,000 expense is coming out of the President Adela de la Torre's "president's office" coffers in a line-item dubbed "Creation of Garden — 'Building Bridges.'"
Campus officials initially agreed to an interview about the garden, but then did not respond to requests for comment.
Anthropology Professor Ramona Pérez, chair of Aztec Culture Education for the Aztec Governing Committee, said the healing garden "will become a space where anybody and everybody … can come and participate in a space of healing" in a December 2018 interview with KPBS.
She said it will be open to those in the San Diego region and beyond and offer "a kind of holistic healing."
"We want to make sure it has the kinds of healing herbs," she said. "President de la Torre is really adamant that it also become more like a botanical garden where people could come harvest if they need any of those healing herbs as well. It's not a hands off, it's a very integrated one."
She went on to note its location is near Americans with Disabilities Act-compliant parking and access so people of all ages can visit it. She added the plan is to, over the years, expand the garden's greenery to different parts of the campus as well.
Another big part of the garden is expected to be a mural and other artwork "depicting natural settings or scenes of the lives of indigenous peoples and their healing practices," the university's website states. History and art professors are collaborating to that end.
The idea for the garden dates back to 2003, according to the Aztec Identity Task Force report. It appears the idea was turned into reality after President de la Torre took the helm of SDSU in June 2018.
"At a time when we need to 'heal' over the issue of indigenous identities, the landscape garden would metaphorically and literally provide the opportunity to do so," the report states. "The landscape garden would provide the names in each language along with the cultural uses and scientific properties."
"The Aztecs weren't just warriors," Pérez told the SDSU news center, noting they were also artisans and craftspeople.
The Aztecs, however, were known to routinely practice human sacrifice as part of their religion, and once performed thousands of human sacrifices in just four days.
As for the garden, it has received some criticism.
Peter Herman, an English professor at the university, in a Times of San Diego column criticized the university's spending priorities: "Then there is the 'healing garden.' I do not know precisely what a 'healing garden' is, but I know it will cost $250,000. It will also be situated across from the Communication Building's dumpsters."
Indeed, the garden is currently under construction about 15 feet from the communications building's dumpsters, which unless a barrier is put up or the dumpsters moved, may be easily seen by those "healing" inside the garden. (Photo: dumpsters are to the left and garden under construction at right).
Herman, in his June 2019 piece, wrote there are other more important needs that require funding on campus.
His column included a photo of a missing sink in one of the library's bathrooms.
"[U]nbelievably, the president approved a budget that spends a quarter million dollars for a garden while the library has endured two raw sewage spills (we all know what that really means) in the past few months, and two bathrooms that have had to be permanently closed," he wrote.
MORE: Professors approve resolution to abolish Aztec mascot — despite its popularity
IMAGE: Gajus / Shutterstock
Like The College Fix on Facebook / Follow us on Twitter