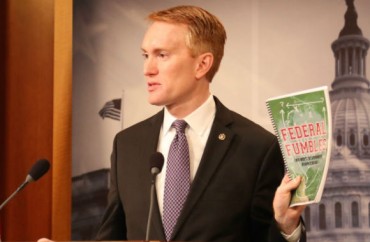 'Overwhelming consensus' that Office for Civil Rights is treating its guidance as binding
Arne Duncan's temporary replacement isn't getting a honeymoon from the chairman of a Senate subcommittee, who is upset about the Department of Education's machinations against colleges.
Republican Sen. James Lankford of Oklahoma is demanding answers from acting Secretary of Education John King about the authority of the Office for Civil Rights (OCR) to force colleges to strip students of their right to due process.
Lankford isn't the first senator to raise the question of whether OCR's methods – issuing "Dear Colleague" letters that purport to explain existing regulations, not make new ones – are permitted by statutory law.
Republican Sen. Lamar Alexander, who chairs the committee that oversees education, grilled another Education official this fall over whether OCR's so-called guidance is legally binding.
In a six-page letter Thursday, Lankford expressed his  "continued alarm" about OCR's Dear Colleague letters on harassment and bullying in 2010 and sexual violence in 2011, and gave King "an opportunity to correct the muddled record."
RELATED: Dept. of Education SHREDDED for lawless overreach in Senate hearing
Lankford is taking his gripes all the way to the acting secretary because the Department of Education has a reputation among agencies for throwing its weight around with no consequences, a Lankford staffer told Tulsa World.
The Regulatory Affairs Subcommittee, which is chaired by Lankford, has found that the Department of Labor "gets sued and the court often says 'you have to regulate this first,'" meaning go through the notice-and-comment process, the staffer said.
But colleges and universities "are so afraid of the Department of Ed, when we meet with them, they simply say, 'Don't use our names. We don't want to alienate the department or risk losing our federal funding,'" the staffer continues.
.@SenatorLankford takes on federal education officials for 'threatening' letters to colleges https://t.co/RW9BxBE3Mt pic.twitter.com/0v2tFQ0AIp

— Tulsa World (@tulsaworld) January 7, 2016
In the letter to King, Lankford claimed that OCR's letters "advance substantive and binding regulatory policies that are effectively regulations."
RELATED: Reminder to Harvard Law: Department of Ed's rape standards aren't enforceable
He cited OCR's fight with Tufts University over its handling of sexual assault and harassment allegations, in which the agency retroactively faulted Tufts for Title IX noncompliance after Tufts agreed to change its policies.
When Tufts tried to pull out of the agreement in 2014, as a result of OCR's after-the-fact punishment, OCR said it "may seek" to cut Tufts' federal funding.
Lankford asked King to "clarify the regulatory authority, citing to specific statutory and/or regulatory language," that the 2010 and 2011 Dear Colleague letters "interpret and construe."
The chairman cited "an overwhelming consensus in the academic and legal communities that OCR treats the policies outlined in the Dear Colleague letters as legally binding—specifically through threats of investigation and rescission of federal funding."
RELATED: White House chickens out of confirmation fight over next education secretary; no hope for accused students
Lankford pointed to dozens of law professors at Harvard and the University of Pennsylvania who have made those claims publicly.
Civil-liberties groups including the Foundation for Individual Rights in Education (FIRE) have repeatedly criticized the letters for threatening freedom of expression and due process on campus by defining the First Amendment-protected expressions as harassment and worse.
With this powerful letter, @SenatorLankford joins @LamarAlexander as the only 2 members of the Senate to criticize OCR's overreach.

— KC Johnson (@kcjohnson9) January 7, 2016
Colleges and universities as well see the letters as "improperly issued guidance that require constitutionally questionable and ill-conceived policies" and do not promote "school safety and gender equality" under Title IX, Lankford wrote King.
Lankford quoted Nadine Strossen, former president of the ACLU, who said OCR was responsible for "the overbroad, unjustified concept of illegal sexual harassment as extending speech with any sexual content that anyone finds offensive." Strossen claimed OCR's "distorted concept of sexual harassment actually does more harm than good to gender justice, not to mention free speech."
RELATED: 28 Harvard law profs tell school to rethink sexual harassment policy
Because of the substantive mandates laid out in OCR's letters, Lankford asked King why the agency declined to submit them for public notice and comment, as required by the federal Administrative Procedure Act.
"Perhaps OCR ought to avoid notice-and-comment procedures, fearing that education officials and other interested groups would have voiced substantive objections to the letters' policies if given an opportunity," Lankford wrote.
Scholars and academics "across the political spectrum" agree that OCR's letters run contrary to the First and Fourth amendments and are in no way required by "Title IX and its implementing regulations," he said.
RELATED: Penn law faculty revolt over new sexual-assault investigation procedures
Like The College Fix on Facebook / Follow us on Twitter
IMAGE: James Lankford/Flickr