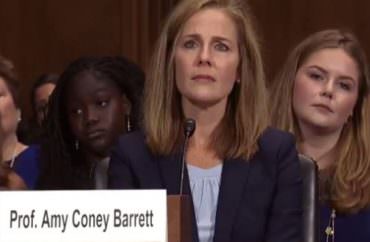 In a recent confirmation hearing, a Notre Dame law professor and judicial nominee was called into question because of her Catholic faith.
"When you read your speeches, the conclusion one draws is that the dogma lives loudly within you," Democratic Sen. Dianne Feinstein told nominee Amy Coney Barrett at the 7th Circuit Court of Appeals hearing. "And that's of concern when you come to big issues that large numbers of people have fought for for years in this country."
However, according to National Review, earlier in the hearing Barrett stated that she would not allow her faith to impede her judgment of the law.
"It is never appropriate for a judge to apply their personal convictions whether it derives from faith or personal conviction," she said.
Feinstein's press secretary told National Review on Thursday: "Professor Barrett has argued that a judge's faith should affect how they approach certain cases. Based on this, Senator Feinstein questioned her about whether she could separate her personal views from the law, particularly regarding women's reproductive rights."
Since 2002, Barrett has been a law professor at The University of Notre Dame, where she received her graduate degree in law.
In a Sept. 9 letter to Sen. Feinstein, University of Notre Dame president Rev. John Jenkins rebuked Feinstein for her concern that Barrett's faith might hinder her duties as a federal judge.
"I am one in whose heart 'dogma lives loudly,' as it has for many centuries in the lies of many Americans, some of whom have given their lives to the service of this nation," Jenkins wrote.
"Indeed, it lived loudly in the hearts of those who founded our nation as one where citizens could practice their faith freely and without apology."
In the letter, Jenkins also affirmed Barrett's integrity, character and "impeccable legal credentials."
"Professor Barrett has made it clear that she would 'follow unflinchingly' all legal precedent and, in rare cases in which her conscience would not allow her to do so, she would recuse herself," Jenkins wrote.
"It is chilling to hear from a United States Senator that this might now disqualify someone from service as a federal judge. I ask you and your colleagues to respect those in whom 'dogma lives loudly'–which is a condition we call faith. For the attempt to live such faith while one upholds the law should command respect, not evoke concern."
MORE: Notre Dame 'white privilege' class promises 'personal transformation'
IMAGE: Twitter screenshot
Like The College Fix on Facebook / Follow us on Twitter