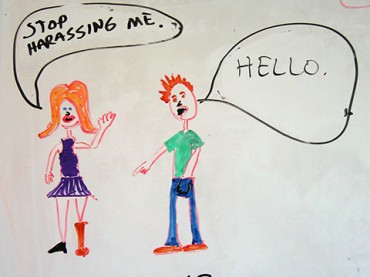 The Department of Education's Office for Civil Rights (OCR) told colleges in an infamous 2011 letter that they "may have an obligation to respond to student-on-student sexual harassment that initially occurred off school grounds, outside a school's education program or activity."
The Kansas Court of Appeals issued a ruling Friday that punches a hole in the application of that far-reaching language by schools in Kansas.
It unanimously upheld a lower-court ruling that that the University of Kansas had no authority to expel a student who "engaged in reprehensible, demeaning, and criminal behavior" toward a former lover, also a student, because none of the allegations happened on campus or at a "university-sponsored event."
Navid Yeasin's behavior toward his ex, identified only as "W.," also included demeaning tweets mentioning her, but not by name or Twitter handle, and he had already blocked her from his Twitter account.
The university said these tweets violated a no-contact order and cited Title IX (as interpreted by OCR) to justify its expulsion of Yeasin – spurring two outside advocacy groups to submit a brief to the court arguing that KU was using Title IX to suppress protected speech. Kansas State University itself filed a brief against KU, arguing that Title IX doesn't require schools to police off-campus conduct – and disparaging OCR's interpretation of the statute.
RELATED: Universities are using Title IX to suppress free speech, student rights groups tell court
The appeals court's ruling is narrow in the sense that it judged the university's authority by its own student code of conduct, which limits its authority to campus in at least three places:
Faced with a serious complaint of sexual harassment involving two students, the University took prompt action. It investigated the circumstances, separated as best it could the antagonists and removed the cause of the conflict through expulsion. The trouble is, the Student Code did not give the University authority to act when the misconduct occurred somewhere other than its campus or at University sponsored or supervised events. There is no proof in the record that Yeasin posted the tweets while he was on campus.
The court said KU "cherry-picks" a single phrase from the code, taken out of all context, as giving it authority to expel Yeasin:
The University's argument that Article 20 suggests that the University may take disciplinary action for student conduct wherever it occurs, when required by federal, state, or local law, ignores all of the other pertinent articles in the Student Code. In other words, the University cannot reconcile its interpretation of the language in Article 20 with the language in Article 18 or Article 22.
KSU to KU: Don't be stupid and pretend Title IX requires colleges to police off-campus conduct
Because it ruled on KU's jurisdiction, the court avoided the weightier issue of Title IX and the First Amendment in the college setting:
Similarly, given our conclusion that the district court did not err in granting Yeasin's petition, we need not address the other questions before us, i.e., whether Title IX permits the University to extend its jurisdiction to discipline student conduct occurring off campus and whether Yeasin's tweets were protected speech under the First Amendment to the United States Constitution.
Though the court acknowledged that colleges' fear of punishment by OCR is "not without some merit" because of the 2011 letter, it ruled that the letter only "clearly advises that the school must take steps to prevent or eliminate a sexually hostile environment":
It seems obvious that the only environment the University can control is on campus or at University sponsored or supervised events. After all, the University is not an agency of law enforcement but is rather an institution of learning.
If a school really believes it's bound by OCR's 2011 guidance, that must be reflected in its own code for its punishment of students to stick, the court ruled.
The open question is whether this ruling – confined to Kansas – will spur colleges to revise their codes to specifically punish off-campus conduct, or instead give them backbone to fight OCR's unbounded (and unenforceable) interpretation of Title IX.
George Washington University Law Prof. John Banzhaf analyzed the ruling in an email blast Monday, saying there's no reason the court's holding should be limited to social media:
The same argument would seemingly apply to claims of sexual assaults, including date rapes, if they allegedly occur in off-campus locations, and perhaps even in fraternities if they are not formally recognized or otherwise supervised by the college or university.

This ruling may even create problems for colleges which desire to punish students for off-campus conduct, but whose current codes of conduct do not make this clear.

Amending such codes to clearly apply to conduct which occurs off camps may take some time and effort … and the changes might even have to be approved by the Trustees.
RELATED: Reminder to Harvard Law: Department of Ed's rape standards aren't enforceable
Like The College Fix on Facebook / Follow us on Twitter
IMAGE: Jeff C/Flickr